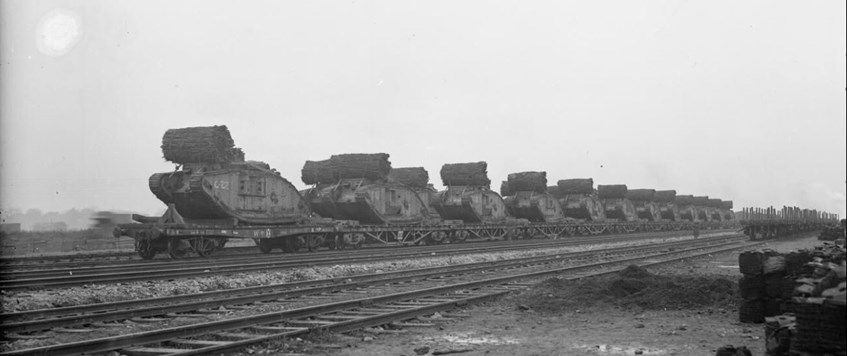 Caption: Tanks arriving by rail. Relying on new research, Fraser explores how tanks and infantry cooperated and were coordinated in this groundbreaking all arms offensive.
About the Talk: In the early hours of 20 Nov 1917 the infantry battalions of 185 Brigade had their first chance at large scale all arms warfare. There has been much discussion about the merits of the plans and the missed opportunities of this battle but less examination of how the new style and approach to battle actually worked. This talk looks in detail at the experience of the battalions that successfully captured Havrincourt, what worked and what did not from the points of view of the infantry, the tanks and crucially the German defenders. It looks at both what was intended to happen and how local initiative and fast decisions by commanders at platoon and company level made the day a success. Much of the talk is based on previously unpublished documents from one of the company commanders and on recently translated German records.
About the Speaker: Fraser is former TA officer and the author of 'Massacre on the Marne' (Pen & Sword, 2007) the Battalion history of the 2/5th West Yorkshire Regiment. A popular and entertaining speaker, he has given talks at about twenty WFA branches mostly on infantry talks and organisation during the Great War. A graduate of Pembroke College Oxford and the London Business School, when he is not studying the Great War and visiting battlefields, he runs a specialist consultancy for the development of new medicines.
Please note: This is our last meeting before Christmas. Our next meeting will take place on Thursday 26 January 2023. Until then, best wishes for the holiday season and a very happy New Year from the NW Kent branch committee. 
Where we meet: The Royal British Legion Club, Queensway, Petts Wood, Orpington, Kent BR5 1DH. We meet on the last Thursday of each month (except December). Meetings start at 19:30, with the doors (and the bar) opening at 18:30. There are no entrance fees but we do welcome contributions of £5 or more towards our costs.
How to get there: The British Legion Club is next door to Morrison's supermarket and Petts Wood railway station (trains from Charing Cross, Cannon Street, and Victoria). Parking at the rear of the club is free but you must enter your car registration into the machine (on the left as you enter the club). Failure to enter your registration can lead to a £50 fine. There's easy free parking in adjacent side streets.
Royal British Legion Club, Queensway, Petts Wood, Orpington, Kent BR5 1DH
24 Nov 2022 19:30