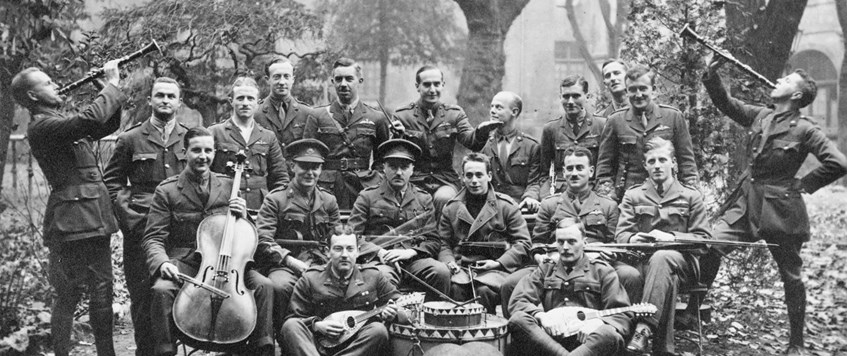 Captions: British PoW band and PoW Pierrot show (courtesy IWM HU 058478 & IWM Q115191)
About this talk: This talk examines the musical experiences of British PoWs held captive during the Great War. It looks at how music was used in a variety of very different ways, including escape attempts, seasonal pantomime performances, and the maintenance of morale through Pierrot shows to avoid what became known as 'barbed wire disease'.
About the speaker: Dr Emma Hanna is Senior Lecturer in the School of History and Deputy Director of Graduate Studies (History) at the University of Kent. She has published widely in international journals and edited collections along themes of the First World War including contemporary memory and memorialisation, the media, wartime music and cinema. She was a Co-Investigator on two major research projects: Gateways to the First World War (AHRC, 2014-2019) and Reflections on the Centenary of the First World War: Learning & Legacies for the Future (AHRC, 2017-2020). She is the author of The Great War on the Small Screen: Representing the First World War in Contemporary Britain and Sounds of War: Music in the British Armed Forces During the Great War.
Where we meet: the Royal British Legion Club, Queensway, Petts Wood, Orpington, Kent BR5 1DH. We meet on the last Thursday of each month (except December). Meetings start at 19:30, with the doors (and the bar) opening at 18:30. There are no entrance fees but we do welcome contributions of £5 or more towards our costs.
How to get there: The club is next to Morrison's supermarket and Petts Wood railway station (trains from Charing Cross, Cannon Street, and Victoria). Parking at the rear of the club is free but you need to enter your car registration into the machine (on the left as you enter the club). Failure to enter your registration can lead to a £50 fine. There's easy free parking in adjacent side streets.
Royal British Legion Club, Queensway, Petts Wood, Orpington, Kent BR5 1DH
27 Oct 2022 19:30