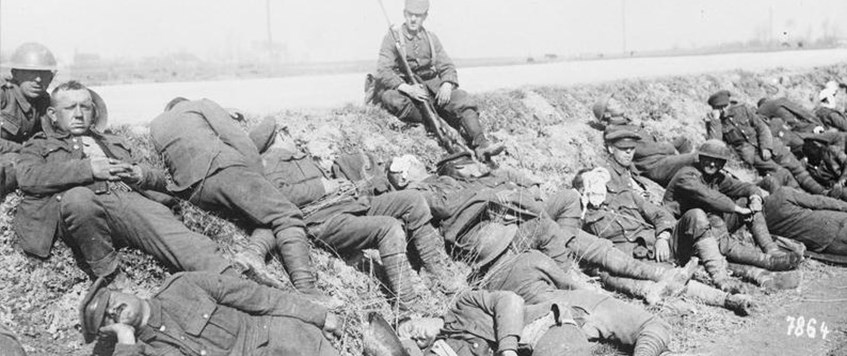 Caption: British prisoners after the Spring Offensive (Courtesy: IWM)
About the talk: Signaller Sam Sutcliffe's son and editor Phil will read excerpts from his father's WW1 frontline experiences… but first touching on the poor London childhood that, one way or another, "made" the Tommy, then and his September 1914 enlistment… then turning – via a training interlude in Kent – to his terrible and even sometimes terribly funny first battlefield at Gallipoli September 1915-January 1916 (Suvla Bay, and V Beach with the 2/1 Royal Fusiliers), his personal view from the Somme trenches May-September 1916 (including July 1), the 1918 battle against the Spring Offensive outside Arras (Fampoux, his Company and 2/7 Essex Battalion's fight to the last bullet) and his eight months as a starving POW wandering occupied France and southern Germany until Armistice… then his extended homecoming: his long trek back to the French Front (including the bit through a minefield), sojourns in various Allied hospitals, his return to London and his family, and various further aftermath unravellings through to July, 1919, when he attended and riotously enjoyed the Peace Parade. Well, a flavour of all that will be attempted!"
About the speaker: I was born in 1947 when my father was 49, hence the years we span between us. I worked as a journalist until semi-retirement and he asked me to edit his writings which I did, at last, in time to publish the memoir in July, 2014. It needed only a light touch and I can say all the words are his – though not necessarily in his original order.
Where we meet: the Royal British Legion Club, Queensway, Petts Wood, Orpington, Kent BR5 1DH. We meet on the last Thursday of each month (except December). Meetings start at 19:30, with the doors (and the bar) opening at 18:30. There are no entrance fees but we do welcome contributions of £5 or more towards our costs.
How to get there: The club is next to Morrison's supermarket and Petts Wood railway station (trains from Charing Cross, Cannon Street, and Victoria). Parking at the rear of the club is free but you need to enter your car registration into the machine (on the left as you enter the club). Failure to enter your registration can lead to a £50 fine. There's easy free parking in adjacent side streets.
Royal British Legion Club, Queensway, Petts Wood, Orpington, Kent BR5 1DH
29 Sep 2022 19:30