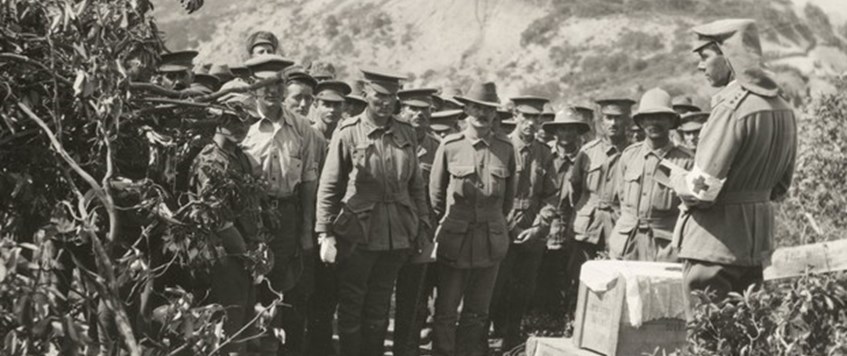 Caption: Gallipoli burial service
About the talk: This talk examines the role of chaplains on both sides and many faiths in Gallipoli and looks at such issues as the logistics of providing a chaplaincy service, the day to day operational challenges, both in the front line (for those chaplains who ventured forward) and behind the line and collaboration with medical services. It also touches on the nature of combatant faith, fatalism and morale and is sourced from memoirs, academic papers, and other publications.
About the speaker: I studied for BA (Upper Second Class) Hons with the Open University and my last module focussed on the political, social and economic history of the Great War. On completion I decided to look at the military history and made my first battlefield visit in 2000, returning at least once every year since. I have published a biography of a military chaplain and the memoir of an infantryman who fought in three war zones and was taken Prisoner of War during the German Spring Offensive.
Where we meet: We meet at the Royal British Legion Club, Queensway, Petts Wood, Orpington, Kent BR5 1DH. Meetings are held on the on the last Thursday of each month (except December). They start at 19:30, with the doors (and the bar) opening at 18:30. We do not charge entrance fees but do welcome donations of £5 or more towards our costs.
Getting there: The club is next to Morrison's supermarket and Petts Wood railway station. Parking at the rear of the club is free but you need to type your car registration into the machine (on the left as you enter the club). Failure to enter your registration can lead to a £50 fine. There's easy free parking in adjacent side streets.
Royal British Legion Club, Queensway, Petts Wood, Orpington, Kent BR5 1DH
27 Apr 2023 19:20