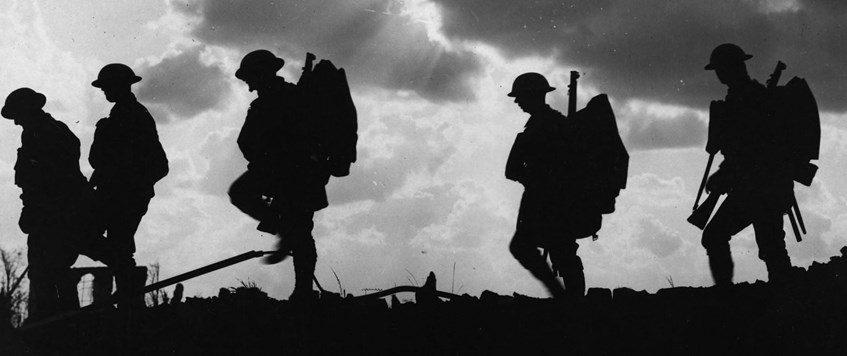 Caption: Troops moving up for the Battle of Broodseinde
About the talk: The capture of Zonnebeke on 4th October 1917 was part of the Battle of Broodseinde. It was a key component of the first stage of a British plan intended to redraw the map of the Ypres theatre and capture the Passchendaele Ridge before winter. While seen as a great day for the British, Zonnebeke was a "black day" for the German army. Rob will show how the early success made the BEF overconfident and how factors other than weather led to their ultimate withdrawal back to Ypres.
About the speaker: This talk is Rob Thompson's return to speaking at NW Kent. An accomplished and charismatic speaker in many media, Rob is an expert on logistics and engineering in the Great War, and a former university lecturer (Birmingham and City University, London). He speaks at WFA events regularly, in person at branches, on podcasts and at WFA conferences, as well as at the Gallipoli Association, the Haig Fellowship, the National Army Museum, the BBC, and primary and secondary school visits. A contributor to many books, he has also published numerous articles for many organisations ranging from the WFA (Stand To! and Bulletin) to the Chartered Institute for Logistics. In the field, he is a Western Front tour guide, has guided army staff rides, and was a guest speaker for the 100th Third Ypres Anniversary in Zonnebeke (Belgium). Whether presenting in person, or in print, Rob's work is always meticulously researched and thought provoking. He was presented with the WFA Hero's Award for his contributions.
This online event: opens at 19:20 for a 19:30 start, ending at about 20:35. Participating is quick and easy. The only equipment you need is a computer, or a tablet, or a smart phone. Simply email wfa.nwkent@gmail.com for your link and the pass code. We will also automatically add you to the mailing list to keep you updated with future events. Donations appreciated.