Image: Courtesy Royal Welch Fusiliers Museum Trust
About the talk: Doughty-Wylie was a dashing Victorian gentleman; a hero to the British, to the Armenians, and to the Ottoman Empire. A much-bemedalled lieutenant-colonel in the Royal Welsh Fusiliers, he was admired by his men and loved by two society women. With service in the Sudan, Somalia, South Africa and the Middle East, his life reads like a Boy's Own Adventure. It  culminated in the posthumous award of a Victoria Cross for gallantry following the landings at V Beach, Gallipoli, on 25th April 1915. It was said after his death that he took only a cane into his last battle as he would not personally bear arms against his former friends, the Ottomans.
About the speaker: Anne Pedley is a former lecturer who has had a life-long interest in the Great War, especially through the prism of the letters, photographs and journals of the day. A trustee of the Royal Welch Fusiliers Museum, and an enthusiastic amateur historian, she specialises in the literature of the conflict and how the war affected different aspects of society. 
This online talk: opens at 19:20 for a 19:30 start, ending at about 20:30. Participating is quick and easy. The only equipment you need is a computer, or a tablet, or a smart phone. Simply email wfa.nwkent@gmail.com for your link and the passcode. We'll also automatically add you to the mailing list to keep you updated with future events.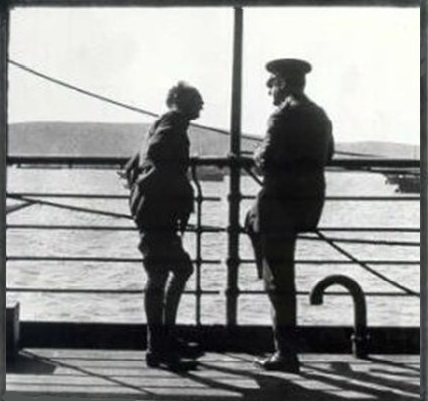 Caption: Dought-Wylie (in hat) conferring with General Sir Ian Hamilton at Gallipoli prior to the landings.