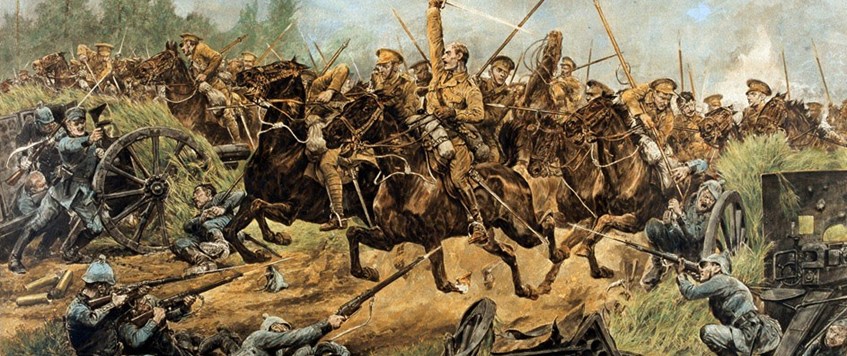 Caption: 'The Taking of the Guns, 1914. Coloured engraving after Richard Caton Woodville, published by the 'Illustrated London News', 1914. Courtesy: National Army Museum
About this talk: This talk examines the famous charge at Audregnies, on 24 August 1914 during the Battle of Mons. On that day, the 9th Lancers and 4th Dragoon Guards, along with 1st Norfolks, 1st Cheshires and 119 Battery RFA, fought a flank guard/rear guard action, halting the German advance until the morning of 25 August. The fighting was fierce, the casualties heavy - the Cheshires nearly 80%, the Lancers 30% - and two VCs were won. Phil Watson reflects on Prof. Richard Holmes' 1996 observation that popular depictions of the action were 'moonshine' and delves into the evidence for doubting the accuracy of Caton Woodville's famous picture (below). Phil also examines the role of the press, the war poets and war artists, looks at the significance of barbed wire, and finally questions whether the action constituted a charge at all.
Note: Phil has aimed for "the same level of granularity as [his] talk on Durant and derives from [his] last book: Audregnies ... 24 August 1914".
About the speaker: Major Phil Watson returns to NW Kent, after his extremely well-received talk in February 2022 about the myths surrounding the lance -v- lance charges by the 9th Lancers at Le Moncel near Paris on 7 September 1914. Phil joined the 9/12 Lancers in 1976 and was commissioned from the ranks in 1988. After various staff appointments, he returned to regiment duty to command Headquarters Squadron. He left the 9/12L in 2012 after 35 years-service and was appointed Assistant Regimental Secretary, a mainly welfare role. He is an adult volunteer with Lincolnshire ACF, after completing three years as the commandant for Leicestershire, Northampton, and Rutland. He is also Chair of SSAFA Leicestershire and Rutland. Currently he is completing his master's at Wolverhampton University under Prof Gary Sheffield and Dr Spencer Jones. His main research interest is the regiment's last two mounted lance actions (during the Retreat from Mons). They are examined in his books, The Last Charges, published by the regimental trustees in 2016, and Audregnies: The Flank Guard Action and the First Cavalry Charge of the Great War, published by Helion in 2019.
This online talk: opens at 19:20 for a 19:30 start, ending at about 20:30. Participating is quick and easy. The only equipment you need is a computer, or a tablet, or a smart phone. Simply email wfa.nwkent@gmail.com for your link and the passcode. We'll also automatically add you to the mailing list to keep you updated with future events.
Caption: 'The First [Gazetted] VC of the European War, 1914' Captain Francis Grenfell, 9th Lancers at Audregnies, 24 August 1914. Oil on canvas by Richard Caton Woodville (1856-1927), 1914. Courtesy: National Army Museum collections.