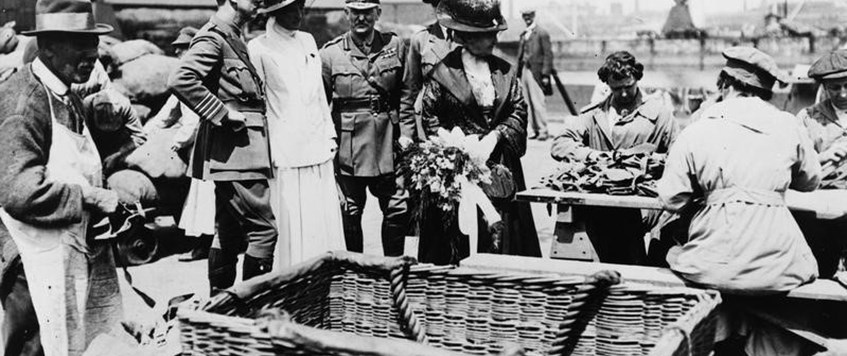 In association with the Kent (East) branch
 of the Western Front Association
 Image: Women cleaning equipment returned from the Front. (Courtesy: IWM Q 108423)

"Throughout the centuries the prosperity
of Woolwich has depended upon war, or the rumour of war."
About the online talk: The London Metropolitan Borough of Woolwich has long been associated with the military, initially through the establishment of Royal Dockyards and Royal Ordnance and later with the arrival of the Royal Military Academy and the Royal Artillery. As part of his MA, Steve Roberts looked at the impact of the war on the Borough and its population. The problems encountered were not just from the Germans and resulted in some dramatic changes in the area, many of which are still visible today. Not only was there a dramatic rise in the numbers of people working in war industry, but also an increase in sites, transport infrastructure and housing.  Additionally, there was the almost ever-present threat of German air raids as Woolwich was within easy striking distance for Zeppelins and heavy bombers.
About the speaker: Steve is a military historian and battlefield guide who specializes in the First World War. He served in the British Army for twelve years and in the Metropolitan Police for twenty three. He has a Master's degree in British First World War Studies and is a member of the International Guild of Battlefield Guides. The grandson of two Great War veterans, Steve has been researching the Great War for many years. He has participated in archaeological digs on the Western Front as well as guiding groups on tours of the battlefields. The co-author of two Great War books, he has appeared in tv productions on both the Western Front and ancestry research.
To join the talk, please email the video coordinator: lukegodber2020@gmail.com
Online talk
27 Aug 2020 19:45