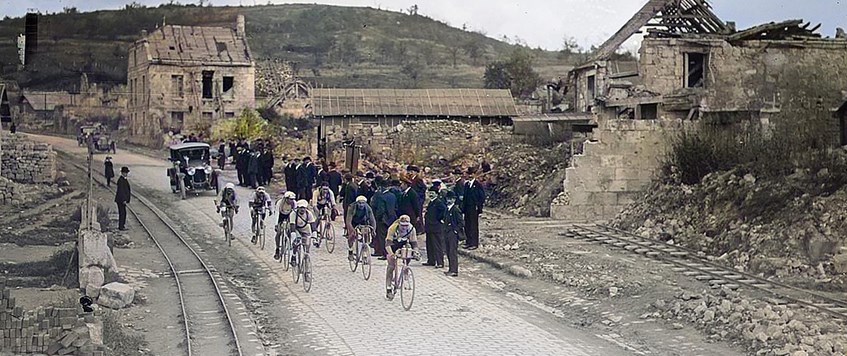 Caption: A section of the 1919 Zone Rouge bike race. The race covered 2000 km (1200 mls) in 200 km stages over ten days. The organisers stated that Germans, Austrians and Hungarians were "unwelcome for obvious reasons". The Zone Rouge was the collective name for those battlefield areas where infrastructure, dwellings and so forth had been totally destroyed by the war.

About the talk: Tom's talk is about the Western Front battlefields immediately post-war. It focusses on a mad-cap bicycle race, barely six months after the Armistice, that crossed the battlefields of the Ypres Salient, the Somme, the Marne, Champagne, Verdun, and the Vosges. It was raced by 87 recently demobbed men attracted by the huge prize money (£100,000 in today's terms). Raced in appalling weather, across countryside still being cleared of corpses and munitions, the Circuit des Champs de Bataille is probably the toughest bike race ever held. Part history, part travelogue, this talk is about Tom's centenary attempt to cycle the entire 1919 route, requiring him to cycle the length of the Western Front ... twice. The talk is fully illustrated with both modern and archive images.
About the speaker: Tom Isitt is a journalist-turned-book-author with a long-standing interest in the Great War. The book on which this talk is based - Riding in the Zone Rouge - was shortlisted for the Telegraph Sports Book of the Year, and highly acclaimed by the Times Literary Supplement. His latest project is a book about the Italian Front of WW1, where his grandfather fought with the British 48th Division in 1918, which involved another huge bike ride through the Dolomites and Italian alps. He has been a professional photographer since 1990, so has a wonderful collection of amazing current and archive photos.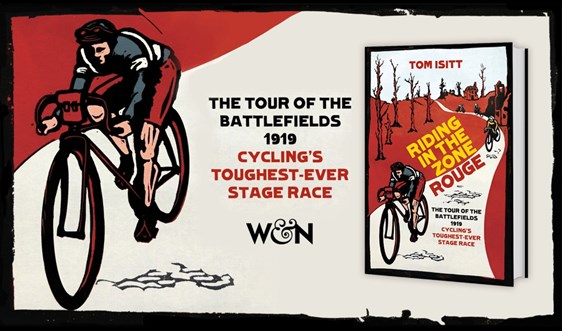 Please note: Tom will selling and signing copies of his book about this epic race at this talk.
Where we meet: We meet at the Royal British Legion Club, Queensway, Petts Wood, Orpington, Kent BR5 1DH. Meetings are held on the on the last Thursday of each month (except December). They start at 19:30, with the doors (and the bar) opening at 18:30. We do not charge entrance fees but do welcome donations of £5 or more towards our costs.
Getting there: The club is next to Morrison's supermarket and Petts Wood railway station. Parking at the rear of the club is free but you need to type your car registration into the machine (on the left as you enter the club). Failure to enter your registration can lead to a £50 fine. There's easy free parking in adjacent side streets.
Royal British Legion Club, Queensway, Petts Wood, Orpington, Kent BR5 1DH
30 Mar 2023 19:30