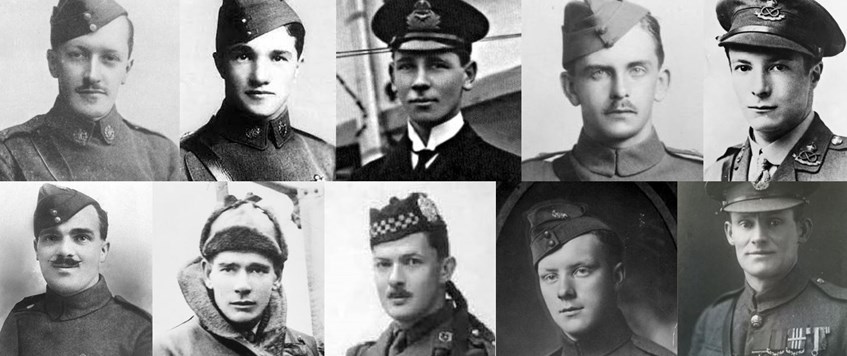 Caption: Top row (L-R) William Moorhouse VC, Albert Ball VC, Reginald Warneford VC, Gilbert Insall VC, Alan Jerrard VC
Bottom row (L-R) Tom Mottorshead VC, Edward 'Mick' Mannock VC, Aidan Liddell VC, Alan McLeod VC, Lionel Rees VC.
About the talk: In this talk, John looks into the background of the VC-winning deeds which shot their aviator recipients to enduring fame and eternal glory. How many were genuinely a case of exceptional derring-do and supreme valour, or were more a matter of being in the right place at the right time?
About the speaker: John Gilder is a lifelong aviation nut, who regressed into a chartered surveyor. He is a popular vice chair of the NW Kent branch and is very active within the Shuttleworth Collection. His aviation talks are always well-received, as he is both enthusiastic and surprisingly well informed. 
Where we meet: We meet at the Royal British Legion Club, Queensway, Petts Wood, Orpington, Kent BR5 1DH. Meetings are held on the last Thursday of each month (except August and December). They start at 19:30, with the doors (and the bar) opening at 18:30. We do not charge entrance fees but do welcome donations of £5 or more towards our costs.
Getting there: The club is next to Morrison's supermarket and Petts Wood railway station. Parking at the rear of the club is free but you need to type your car registration into the machine (on the left as you enter the club). Failure to enter your registration can lead to a £50 fine. There's easy free parking in adjacent side streets.
Royal British Legion Club, Queensway, Petts Wood, Orpington, Kent BR5 1DH
27 Jul 2023 19:25