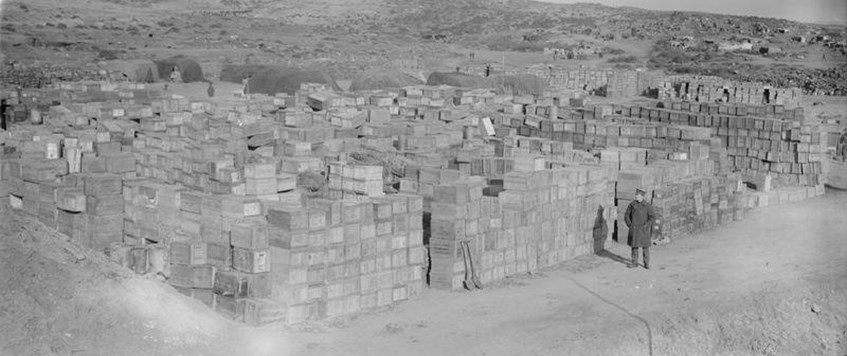 The evacuation of Gallipoli was a life or death gamble. The expedition to wrest the Narrows from the Turks had failed, Constantinople remained an impossible dream. Now in January 1916, thousands of men, were trapped in the Helles bridgehead. Deeds of extraordinary heroism had counted for nothing in the face of the grim, determined resistance of the Turkish Fifth Army fighting in defence of their homeland. The invaders found themselves caught in a nightmare scenario: they could not advance, but how was it possible to retreat from trenches overlooked by the Turks? Who would take the responsibility for the hard decisions to be taken? The soldiers? Or the vacillating politicians busy 'passing the buck' back home in London. With every day that passed the Turks moved up more guns, threatening to blast to pieces the flimsy piers, breakwaters and blockships that acted as makeshift harbours to feed and supply tens of thousands of men. And it was winter. But it wasn't all doom and gloom. There is much to admire in the hard work and ingenuity of the staff officers who were eventually charged with arranging the evacuation. Every possible ruse was employed. But it was still a damn close-run thing. A spell of bad weather in the final days might have destroyed the flimsy piers, leaving thousands trapped and helpless should the Turkish guns open up and their infantry swarm over No Man's Land. Their lives were dependent on the vagaries of the weather in the Aegean Sea in January. This then is the story of how the Helles garrison escaped to fight another day.
Peter Hart was the oral historian at the IWM for nearly 40 years responsible for interviewing veterans. He has produced numerous books on the Great War and Gallipoli in particular.
Gary Bain served in the Intelligence Corps as a very junior NCO before leaving the military to achieve great success in civilian life - rising to be Commercial Director of Transport for London.
Image: Stores awaiting destruction at Suvla Point during the evacuation. This is photograph Q13661 from the collections of the Imperial War Museum. Q13661 IWM
Walthamstow Cricket Tennis & Squash Club, 48a Greenway Ave, London. E17 3QN
17 Feb 2022 19:30