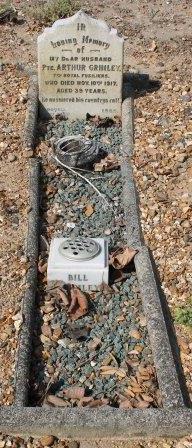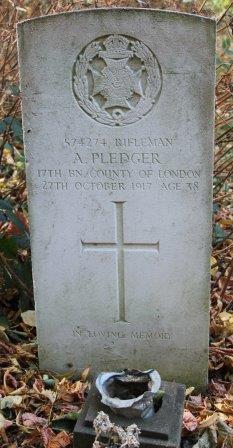 Private Sydney Freeburgh's grave in      Private Arthur Grimley's grave in     Private Alfred Pledger's grave in St Mary's
Queen's Road Cemetery, Walthamstow   Queen's Road, Walthamstow          Churchyard, Walthamstow
For the second year running the East London Branch is delighted to be working in partnership with the Big Ideas Company on a commemorative project. Last year, with the Commonwealth War Graves Commission, we commemorated 'Blackhorse Boy', Ernest Nottage, who was severely wounded on the First Day of the Somme, and was brought home, only to die in January 1918. He is buried in Queen's Road Cemetery, Walthamstow.
Passchendaele at Home is a nationwide research-and-remember project inviting communities across the UK to discover and remember servicemen who were wounded whilst fighting at the Battle of Passchendaele in 1917 and who died of their wounds in the UK. It is led by the Big Ideas Company and publicly funded by the Department for Communities and Local Government (DCLG). www.bigideascompany.org.
This year, the Commemoration is of  three men, Private Sidney Victor Freeburgh 1891-1917, Private Arthur Grimley 1878-1917, both buried in Queen's Road, and Private Alfred Pledger 1879-1917, buried in St Mary's Churchyard, Walthamstow.  For this project we are indebted to Chris Hunt, who has researched the lives and deaths of the three men. Chris is researching Walthamstow casualties of the First World War from the Roll of Honour and Roll of Sacrifice at Vestry House, Walthamstow, and has photographed graves and memorials across the borough. 
The commemoration will be launched at the WFA meeting on Thursday 16 November and copies of the limited edition, Commemorative Brochure will be available.  Chris will talk about his research.
On Wednesday 22 November, there will be commemorative ceremonies to honour the three men. At 11.30 at Queen's Road Cemetery, Privates Freeburgh and Grimley will be honoured in the presence of the Deputy Lieutenant for London, Major Jeremy Fern; the Mayor of Waltham Forest; local councillors; the Royal British Legion; the WFA; The Big Ideas Company and we are especially pleased to welcome the grandson of Private Grimley. At 1.00 at St Mary's Church, there will be a ceremony to honour Private Pledger where we will be joined by further guests including members of the church. Wreaths will be laid at all three graves and the Last Post sounded. 
Malcolm J Doolin