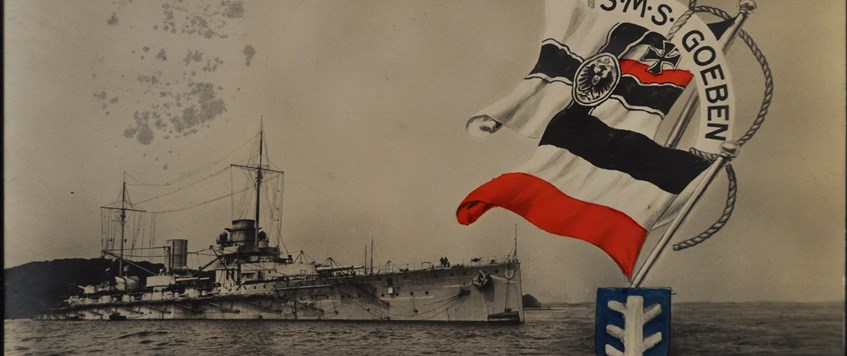 Several months after her commissioning in 1912, Goeben, with the light cruiser Breslau, formed the German Mediterranean Division. After the outbreak of World War I  Goeben and Breslau bombarded positions in North Africa and then evaded British naval forces in the Mediterranean and reached Constantinople. The two ships were transferred to the Ottoman Empire on - the Goeben became the flagship of the Turkish Navy as the Yavuz.
By bombarding Russian facilities in the Black Sea, she brought Turkey into World War I on the German side
This talk by Dr Scott Lindgren explores the events, reasons and consequences of these early naval affairs.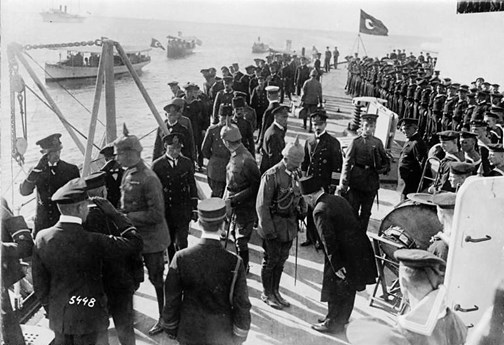 Above: Kaiser Wilhelm II visiting Yavuz during his stay in Constantinople in October 1917 as a guest of Sultan Mehmed V
Members and non-members of The Western Front Association are equally welcome. Any new visitors are guaranteed a friendly atmosphere and a warm welcome from a group of like-minded enthusiasts. 
St Peters Rooms, Ruddington, Notts NG11 6HD
0787 5156513
12 Aug 2022 19:30