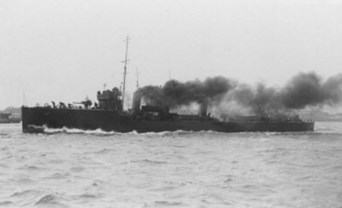 Welcome to the March Newsletter.  Those of you able to come to our meetings will, I am sure, agree with me that we have already had a diverse and fascinating selection of talks so far this year.  Many thanks to Nigel and Norman for their hard work in arranging this for us.  The topical picture this month is of HMS Hardy an  Acasta-class destroyer and sister ship of HMS Paragon which was sunk on 17th March 1917 by torpedo.  She was attacked during a raid by two flotillas of German Torpedo Boats which both attacked shipping in the Strait of Dover as well as attacking Ramsgate & Margate.
Next month is our branch AGM and although the current Committee Members are happy to stand for re-election we are always keen to have other members join us.  This need not be an onerous commitment and we hold Committee Meetings in a pub(!) so why not offer to join us?
David Adamson
Future Meetings and Events
March 18th - Colin Ellender 'The Battle of Mons'
April 15th  – AGM and Simon Jones – 'Mustard Gas Ypres 1917'
May 20th  – Francis Handford - RAF Halton & 21st Division
Reports of Events
February 18th  – Hanna Smyth 'First World War Imperial Memorials on the Western Front'
Hanna's talk analysed the four national Dominion memorials on the Western Front.  These were built under the auspices of the, then, Imperial War Graves Commission (IWGC) to emphasise the unity of sacrifice and remembrance.  These memorials are for South Africa at Delville Wood, India at  Neuve Chapelle, Canada at Vimy Ridge and Australia at Villers-Bretonneux.  New Zealand decided not to have a national memorial but seven distributed memorials along the front.  Newfoundland (at Beaumont Hamel) also had its own memorial, but it later became the tenth province of Canada.  The Dominions had representatives on the IWGC, whose guiding principle was equality in death.  All British and Dominion dead had either a named headstone or a name on a memorial if there was no body.  This contrasted with the French use of ossuaries and the German mass graves.  All these memorials were built on battlefields; sites of either great loss, a great victory or both.
Delville Wood – South African Memorial (Unveiled 1926)
This comprises an arch with semi-circular walls and two structures based on the Govenour's House in Cape Town.  Inscriptions are in English and Afrikaans.  Technically, this is not a memorial to the dead as the Delville Wood Committee in Pretoria in 1924 decided not to include the names of the missing on the memorial (they are instead commemorated at Thiepval).  The memorial was intended as a memorial to all South Africans who served anywhere in the war.  This approach was opposed by the IWGC who therefore did not make any financial contribution to the costs. 
Vimy Ridge – Canadian Memorial (Unveiled 1926)

The main part of the memorial is the twin pylons which have the names of the missing inscribed on the base.  There is also the 30 ton "Mother Canada" sculpture together with smaller ones such as "Peace", Justice", "Hope", "Knowledge" etc..  Since 1938 the Canadian Government has maintained the memorial and bilingual guides are provided.
Villers-Bretonneux – Australian Memorial (Unveiled 1928)

This comprises a 30m tall tower and a wall with 10,738 names of the missing.  In 1925, the Australian Government held a competition open to men who had served, or whose sons had served in the war.  However, despite this, the job was given to Sir Edwin Lutyens!  Initially, Amiens was considered as the best location for the memorial, but Villers-Bretonneux impressed the Australian public more and so was chosen.  Australia wanted the names of the missing both here and on the Menin Gate but this would have been against the IWGC principle of a single memorial per man.  In the end, the Belgian dead were on the Menin Gate & Tyne Cot and the French on Villers-Bretonneux.  Australia also helped to pay for the rebuilding of the local village.  Although Australia was the only Dominion with a single language, the inscription was in French as well as English.
Neuve Chapelle – Indian Memorial (Unveiled 1927)
On a site chosen by the India Office, the memorial is reminiscent of a Hindu shrine and was designed by Herbert Baker.  The inscriptions are in four languages: English, Arabic, Hindi, and Gurmukhi.  One hundred drafts of the translations were made before they were agreed.  The names of the missing are grouped by religion and there are no references to graves or bodies to avoid offending Hindus. 
These memorials emphasised the national identities of the Dominions, but also the ties to Britain and the Empire.  Respect for the service and sacrifice helped knit together these identities but divisions were also aroused.  For example, in Canada French Canadians claimed to be "more Canadian" than the, later arriving, British Canadians.  There are many meanings to the national memorials both personal and collective.
Soldiers Remembered: Airman 2nd Class George Henry Sherwin, RFC, Waddesdon & Thame
Airman 2nd Class George Henry SHERWIN who died 18th February 1917 aged 34. George was buried in Leicester in the Welford Road Cemetery. He was by trade a motor finisher. His family lived in Leicester but he was born in Aylesbury and brought up in Waddesdon where he is remembered on the village memorial. George attended Lord William's School, Thame where he appears on their memorial to pupils.
Regimental Research
Those of you actively researching the Great War may be interested in the following.  Nigel has passed on the first one; the second is from the RGJ Museum Website (http://rgjmuseum.co.uk/our-collection/research/):
The Royal Artillery Museum Archive is now open!
Do e-mail us if you would like to visit and look at some of our amazing records. Or drop us a message on Facebook with your e-mail address and we will send you details.
We are open two days a week (Tuesdays a
nd Thursdays) at Larkhill in Wiltshire. We're still fairly small, and we are on an army base, so please book at least a week in advance so we can make sure we have a place for you, and sort out a pass.
Do also let us know if you have any questions about our records. We're happy to answer brief enquiries, and we've started a paid service for more detailed historical research. Contact us with your questions, and we'll let you know how we can help.
We look forward to seeing and hearing from you!
E-mail: sm@salisburyplainheritagecentre.com.
Royal Greenjackets Museum Archive
The Museum archives in Winchester include over 23,000 photographs and a huge amount of material – personal letters, documents, diaries, memoirs and maps – relating to The Royal Green Jackets and its antecedent regiments, principally The King's Royal Rifle Corps and The Rifle Brigade.
The archives were deposited at Hampshire Record Office (HRO) on 13 December 2012. Access to the archives may be gained during HRO's normal opening hours – see http://www3.hants.gov.uk/archives/visiting-hals.htm for information, including how to obtain a reader's ticket (essential for accessing archives).
The Royal Green Jackets (Rifles) Museum holds, separate to the archives, a substantial library of books, including regimental histories and chronicles, and other reference material with which to answer research enquiries.
The Museum archives covering The Oxfordshire & Buckinghamshire Light Infantry are held on loan by the Soldiers of Oxfordshire Trust (SOFO) in Woodstock. Researchers requiring access should visit http://www.sofo.org.uk/research.php for more information.
Postcards from Egypt – Michael Walker Collection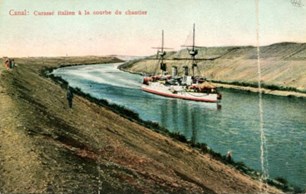 Here are two more, post cards sent by Michael's father from Egypt in WWI.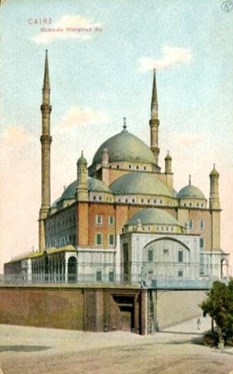 Please see January's Newsletter for details of Michael's father.
Forthcoming Events
3rd Ypres Commemoration Tour
This tour, in conjunction with Rifleman Tours will be  between 30th July and 2nd August 2017.  More details are available from Nigel.  If you may be interested please note the dates now and let Nigel know of your interest.
Commemorative VC Paving Stones: Frederick Youens 9th July 2017 at 2.30pm
Many of you are probably aware of the project to place a commemorative paving slab for every WWI VC winner in their home town.  One will be unveiled in High Wycombe next year on 9th July; more details on this will be included in the Newsletter when they are available.  There is also an interactive map showing all stones laid to date: Victoria Cross Paving Stones.