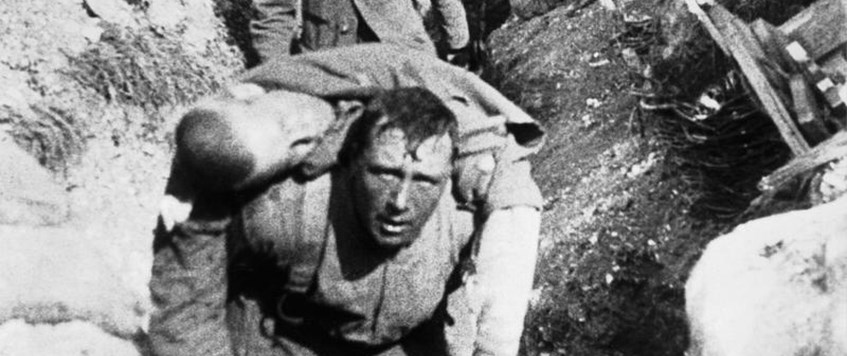 'Ghosts on The Somme - Filming The Battle of the Somme' by Steve Roberts
In early summer 1916, work started on a feature-length documentary film of the planned Somme Offensive. Filmed by cinematographers Geoffrey Malins and John MacDowell, "The Battle of The Somme" was released shortly after the opening phases of the battle. An estimated 20 million people out of a population of 43 million, saw the film in the first 6 weeks of its release. It had a huge impact and became a must-see for anyone who had a relative at the front.
Steve, with Andy Robertshaw and Alistair Frazer, worked with Roger Smithers of the IWM Film Archives over a period of two years, analysing the film frame by frame. Using the latest techniques, including forensic facial recognition and lip-reading experts, they were able to identify locations, units and individuals in the film. The work of piecing together the story of the film led to the publication of a fascinating book which tells the story of the film frame by frame.
Steve will explain the analysis of how the British army prepared for the battle, show us how the use of forensic lip readers and facial recognition was used to discover the identities of some of those filmed and what they said. We will view some of the film with an explanation of how it was filmed and what it tells us.
Steve is a former regular soldier serving 12 years with the Royal Military Police and 23 years in the Metropolitan Police Force. After leaving the police, Steve became a military historian and researcher. He has been a battlefield guide for over 25 years and he has co-written 3 Pen and Sword books: Ghosts on the Somme, The Platoon, and Digging the Trenches. 
The documentary "Filming The Battle of Beaumont Hamel and the Somme" is available on You Tube and can sometimes be seen on The History Channel.
This meeting will be held in Cobham.  Members of The Western Front Association and non-members are equally welcome.  We ask for a modest £3 donation on the door.  This includes tea, coffee and biscuits at the break (before the Q&A session with the speaker).
People joining us at Cobham can use our new cashless card system and use their credit card/phone with the new reader that will be available at the signing in desk.
To help make things easier and safer, we are asking those coming to Cobham to bring their own mug for coffee or tea.
Steve's talk starts at 8pm.  Doors open at Cobham at 7:15pm and the meeting starts at 7:45pm.
The image is a still from the film "The Battle of the Somme" © IWM Q 79501
Note that this is a change from the previously published talk.  Peter Hart's talk on the Butte de Warlencourt will now take place in August.
Cobham Day Centre, Lushington Drive, Cobham, Surrey KT11 2LY, UK
15 Mar 2023 19:45