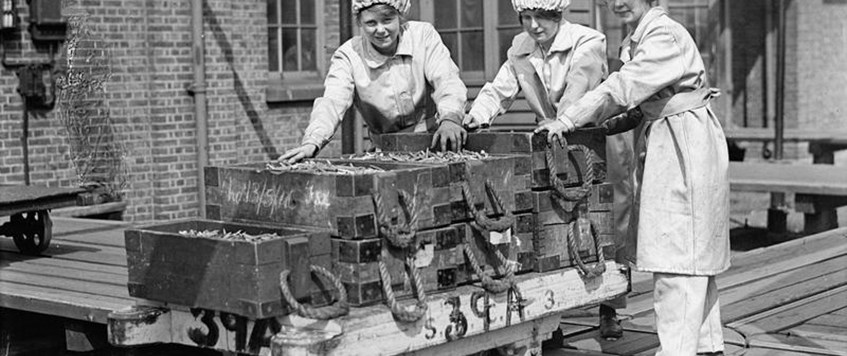 UPDATE - Unfortunately Andy Thompson and his wife have caught COVID and Andy will be unable to attend the meeting.  Consequently, we have had to cancel the Zoom link.  We hope to resume normal service in April.
The decreasing impact of Omicron allows us to hold our March meeting in Cobham.
To satisfy the insatiable appetite of the guns the Ministry of Munitions was created to oversee the manufacture of ammunition. The role that women played in this vital industry, the use of women police and military guards will be discussed in this talk.
To feed the fighting fronts the First World War became a war of production. The armed forces consumed vast amounts of munitions, requiring huge quantities of steel, copper, explosives and other materials. Hundreds of existing manufacturing companies were turned over to war production. As men rushed to join the colours, employment opportunities for women greatly expanded and their wage rates rose considerably. In some factories more than 90% of the workforce were women and the involvement of women in the production of munitions led to huge social change in the UK
To help make things easier and safer as we learn to live with COVID we are asking those coming to Cobham to bring their own mug for coffee or tea. This will be safer and it will make things much easier for the refreshment team – the Day Centre now keep their cups under lock and key and the biodegradable cups that we have trialled are expensive. Bringing your own seems the simple solution.
Members of The Western Front Association and non-members are equally welcome.  We ask for a modest £3 donation on the door.  This includes tea, coffee and biscuits at the break (before the Q&A session with the speaker).  Members joining us at Cobham can use our new cashless card system and use their credit card/phone with the new reader that will be available at the signing in desk.
We have been advised that Simon and Sally McArthur can't join us to sell their books as normal - if any member attending the meeting has books to sell they are welcome to bring them and share them with others. 
In addition, Jeremy Gordon-Smith, a Surrey WFA member, has written two books that members will find interesting:
"Photographing the Fallen: A War Graves Photographer on the Western Front 1915–1919" covers the work of his great-great-uncle Ivor Bawtree and the Graves Registration Units.
'Beauty in the Shadows' covers life on the home front during both world wars in the Sutton area of Surrey. Andy Arnold has reviewed it on his blog: https://ww1geek.com/book-reviews-other/beauty-in-the-shadows/.
Jeremy will be at Cobham with a stock of these two books for sale.
Nigel's talk starts at 8pm.  Doors open at Cobham at 7:15pm and the live meeting starts at 7:45pm.
The photo shows Three female munitions workers pushing a wagon laden with cartridge cases at Woolwich Arsenal, May 1918 © IWM Q 27881
Cobham Day Centre, Lushington Drive, Cobham, Surrey KT11 2LY, UK
16 Mar 2022 19:45