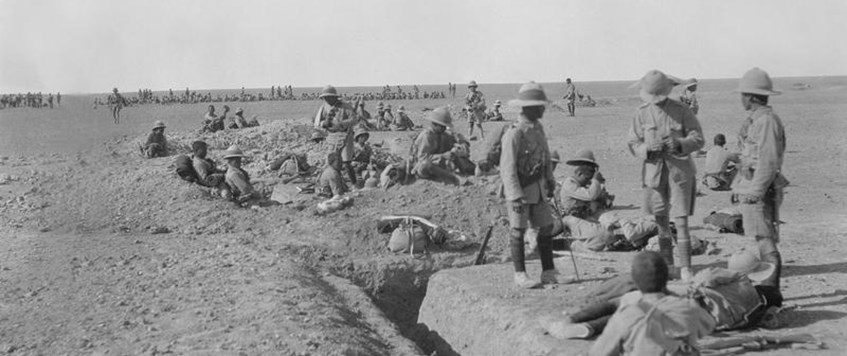 ONLINE Zoom Meeting: Carry On Up the Tigris – The Experiences of British and Indian Troops in Mesopotamia 1914-18 by Alan Wakefield
Between 1914 and 1918, British and Indian troops fought against the Ottoman Turks in Mesopotamia (now Iraq). After many setbacks, they finally took Baghdad in March 1917. This marked the high point of a long and tragic campaign characterised by bitter fighting in a harsh climate.
Alan will discuss the differing styles of warfare in Mesopotamia, and problems caused by climate, terrain and disease.
The photo shows 1/8th Gurkha Rifles, 21st Brigade (7th Division) occupying captured Turkish trenches near Tikrit, 7 November 1917, following the capture of the town two days earlier. Following confirmation that the Turks had pulled back to prepared positions at the Fat-ha Gorge, the British withdrew south from Tikrit having destroyed stores left behind by the Turks. © IWM Q 24431
This online meeting is open to all.  You do not have to be a member of the Western Front Association to join the meeting.  Details of how to join the meeting using Zoom will be given in Andy Thompson's July email.  This will be sent out to everyone on our email list.  If you don't receive Andy's emails contact him at andy.ewt@gmail.com.
Online meeting. Please do not go to the Cobham Day Centre.
15 Jul 2020 20:20