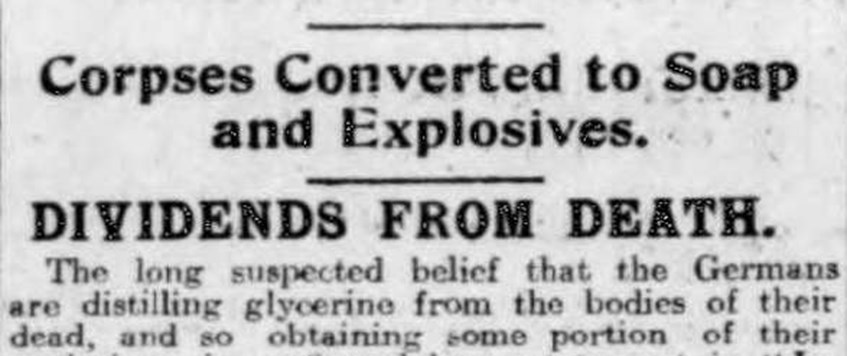 Propaganda and Reportage: how the press reported the War and how the News was received at home by Mike Coyle
Mike will examine an interesting but often neglected aspect of the war: Propaganda and Reportage: how the press reported the war and how the news was received at home.
He will look local and national reporting of battles, people and events.  He will consider the impact of censorship, political control and "spin".
He will show how reported stories were received at home and how these stories formed the basis for subsequent social and historical research.
The photo shows the headline from a propaganda story reported in the British press in 1917.
This online talk is open to all.  You do not have to be a member of the Western Front Association to join this online meeting.  Details of how to join the meeting using Zoom are in Andy Thompson's September email sent out to everyone on our email list.  If you don't receive Andy's emails contact him at andy.ewt@gmail.com.
This is a change to the advertised programme.  The planned session on the role of women in the Great War has been rescheduled for next year.
This is an online Zoom meeting. Please do not go to Cobham Day Centre.
16 Sep 2020 20:00