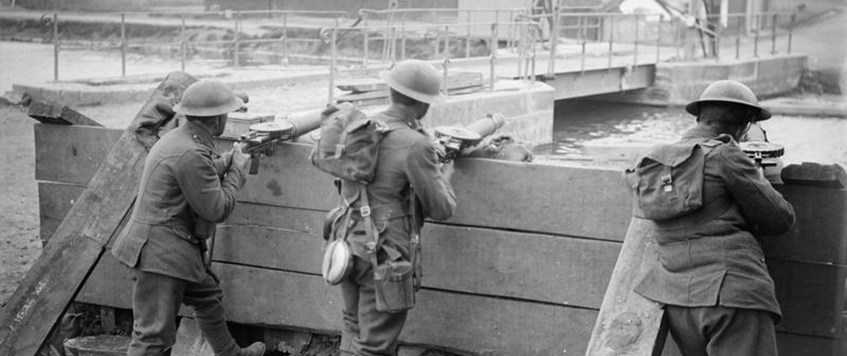 Branch AGM followed by The Battle of the Lys April 1918 by Phil Tomaselli
Our April meeting will be held in Cobham and we will continue to stream on the Zoom platform for those who prefer to join us online.
The April meeting is the Branch Annual General Meeting.  This will be followed by the talk for April: The Battle of the Lys April 1918 by Phil Tomaselli.
The Battle of the Lys, also known as the Fourth Battle of Ypres, was fought from 7 to 29 April 1918 and was part of the German spring offensive in Flanders during the First World War. It was originally planned by General Erich Ludendorff as Operation George but was reduced to Operation Georgette, with the objective of capturing Ypres, forcing the British forces back to the Channel ports and out of the war. In planning, execution and effects, Georgette was similar to (although smaller than) Operation Michael, earlier in the Spring Offensive.
Members of The Western Front Association and non-members are equally welcome in Cobham and online.  In Cobham, we ask for a modest £3 donation on the door.  This includes tea, coffee and biscuits at the break (before the Q&A session with the speaker).  Members joining us at Cobham can use our new cashless card system and use their credit card/phone with the new reader that will be available at the signing in desk. To help make things easier and safer, we are asking those coming to Cobham to bring their own mug for coffee or tea.
Andy Thompson's April email update includes instructions for joining the Zoom meeting.  If you are not on our email list, please contact Graham Grist at wfas1918@gmail.com who will send you the Zoom link. Those joining us on Zoom are asked to contribute a donation of £3 – please pay by BACS to Surrey WF Branch Sort code: 30-15-52 Account number: 58493168. Reference with your family name.
Doors open at Cobham at 7:15pm and the AGM starts at 7:45pm.  At 8:15pm there will be a break for refreshments.  Phil's talk starts at 8:45pm. You can join the Zoom meeting at any time after 8.00 pm to chat to other attendees or to just listen in. However, due to technical limitations, the branch AGM will not be available online.
The photo shows British Lewis gunners manning a barricade at a bridge crossing the Lys Canal at Marquois, 13 April 1918. © IWM Q 6612
Cobham Day Centre, Lushington Drive, Cobham, Surrey KT11 2LY, UK
20 Apr 2022 19:45