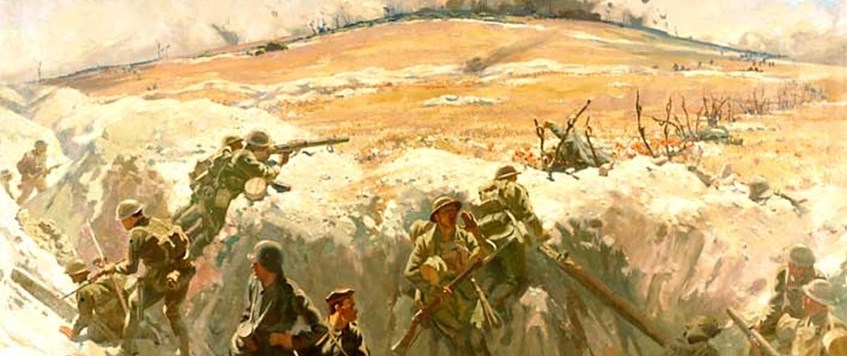 The presentation will be live and online.
After the Allied successes of 8 August 1918 there was a series of hammer blows against the retreating Germans. However, by the end of that month the assaulting forces  were weakened themselves and decidedly footsore. Ahead lay the brooding hill of Mont St Quentin which commanded views of Peronne town and the Somme river valley. General John Monash, pushing his men to the limit planned an Australian assault on the Mont that would force the Germans further back to the Hindenburg line.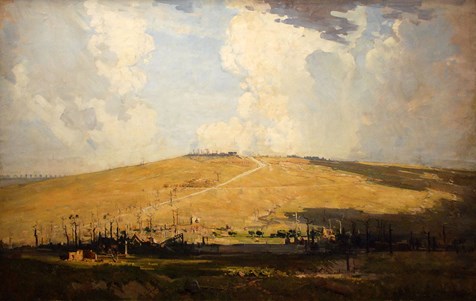 Above: Mount St Quentin By Arthur Streeton (AWM)
Below: Captioned "The gaps in the wire near Anvil Wood through which the 53rd Battn. rushed the machine gun posts on Aug 31st 1918 were death traps." Collection of National Media Museum (Frank Hurley/Australian War Records Section)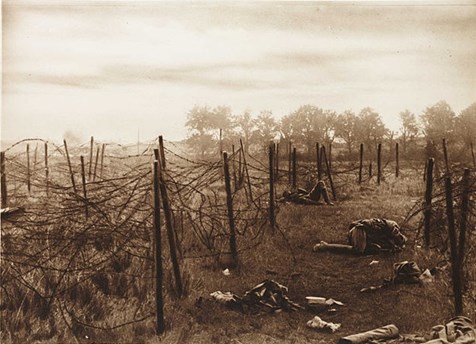 Between 31 August and 2 September soldiers of the Australian Imperial Force showed dash, courage and persistence in capturing the Hill with its formidable dug in defence positions. Julian Whippy will describe the action's importance, which, for the 2nd Australian Division in particular is evidenced by the striking "Digger memorial" which stands proudly atop the hill today.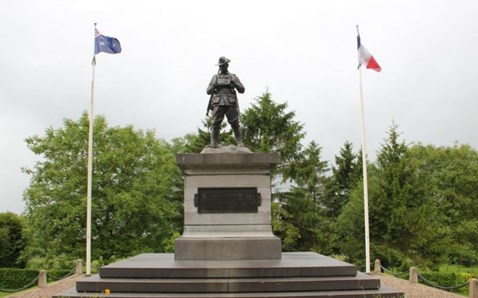 Members wishing to participate will need to register: details of how to register will be circulated via The Western Front Association's newsletter 'Trench Lines'. If you are not a subscriber to 'Trench Lines' please subscribe now. 
To subscribe to Trench Lines, go to the home page of the WFA web site and complete your details in the 'Newsletter signup' box. 
It is also possible to register by clicking this link: A fine feat of War: The taking of Mont St Quentin 1918
The talk will be undertaken using the 'Zoom' software which is freely available. It may not be necessary to load the software to your PC / iPad etc: but we would recommend doing so if you wish to participate in this event.
Please Note : > Once registrations hit capacity (we have a 1000 limit on the webinars) then you won't be able to register. If this happens, you can still watch the event via the Facebook Live Stream (subject to any technical hitches) on our Facebook page. Alternatively, these are loaded to our YouTube channel where they can be watched a few weeks after the event. 
Your Computer, Your Home
ONLINE: A fine feat of War: The taking of Mont St Quentin 1918 by Julian Whippy, office@westernfrontassociation.com
02 Aug 2021 20:00