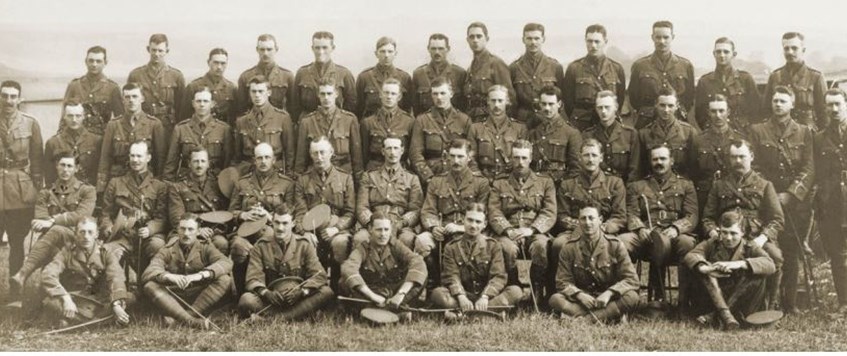 The presentation will be live and online.
As well as being the story of the 8th Battalion, Royal Berkshire Regiment, and their involvement in the Battles of Loos and the Somme, this talk tells a story full of family history investigations and human interest. Two books* based on one group photograph from 1915. The stories of all 46 men in the photograph show the impact of the war on their families. In particular, one of the men left 341 letters from 18 months on the Western Front which present a portrait of a man and a marriage during a time of traumatic uncertainty. But this is not just his war, it's society's war as his letters show its effects on both the Home Front and the Western Front and examine the minutiae of life during the war.
Andrew Tatham, the author of the two books, shows how personal, family and war history connect through to today.
*  'A Group Photograph – Before, Now and In-Between'  A Group Photograph - Before, Now & In-Between - Home
   'I Shall Not Be Away Long'  A Group Photograph - Before, Now & In-Between - *2nd Book*
Members wishing to participate will need to register: details of how to register will be circulated via the WFA's newsletter 'Trench Lines'. If you are not a subscriber to 'Trench Lines' please subscribe now. 
To subscribe to Trench Lines, go to the home page of the WFA web site and complete your details in the 'Newsletter signup' box. 
It is also possible to register by clicking this link: A Group Photograph - Before, Now & In-Between
The talk will be undertaken using the 'Zoom' software which is freely available. It may not be necessary to load the software to your PC / iPad etc: but we would recommend doing so if you wish to participate in this event.
Your Computer, Your Home
ONLINE: A Group Photograph - Before, Now & In-Between, office@westernfrontassociation.com
08 Mar 2021 20:00