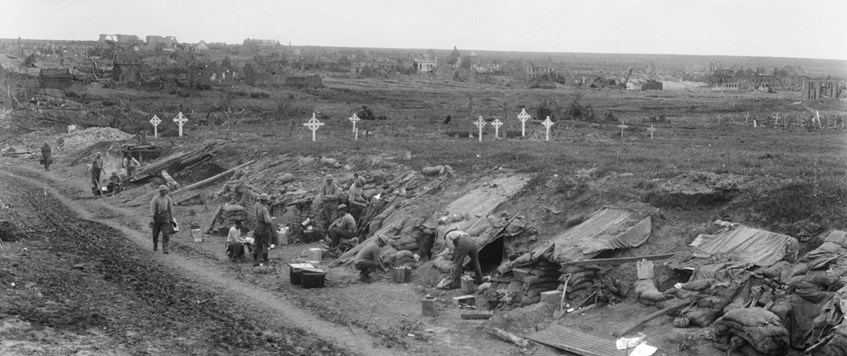 The presentation will be live and online. 
Dr Meleah Hampton, the Australian military historian and researcher at the Australian War Memorial, will present a talk on how the two Australian battles that we call 1st and 2nd Bullecourt were planned and executed. Based on her analysis of Australian corps and divisional archives, Meleah will look at the battle plans for the April and May attacks, how and why they were modified or evolved, and reveal startling influences on the planning, some from unexpected places.
Please note the start time of this Saturday event is as follows:
British Summer Time 10:00am; Australian Standard Eastern Time 7:00pm; NZ Standard Time 9:00pm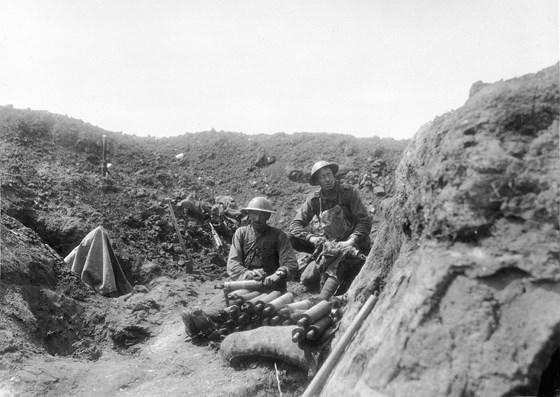 Above: A scene in the Hindenburg Line, showing Australians with a Stokes mortar assisting in the operations near Bullecourt (AWM E00457).
The talk will also be the '2021 John Laffin Memorial Lecture', delivered on behalf of the Families and Friends of the First Australian Imperial Force, a kindred group of the Australian WFA, and whose members are invited to join this Webinar.
Members wishing to participate will need to register: details of how to register will be circulated via The Western Front Association's newsletter 'Trench Lines'. If you are not a subscriber to 'Trench Lines' please subscribe now. 
To subscribe to Trench Lines, go to the home page of The Western Front Association web site and complete your details in the 'Newsletter sign up' box. 
It is also possible to register by clicking this link: Bullecourt
The talk will be undertaken using the 'Zoom' software which is freely available. It may not be necessary to load the software to your PC / iPad etc: but we would recommend doing so if you wish to participate in this event.
Please Note : > Once registrations hit capacity (we have a 1000 limit on the webinars) then you won't be able to register. However, these events are loaded to our YouTube channel in due course where they can be watched a few weeks after the event.  
Your Computer, Your Home
ONLINE: Bullecourt, staff planning processes for the Australian operations in April and May 1917 by Dr Meleah Hampton, office@westernfrontassociation.com
25 Sep 2021 10:00