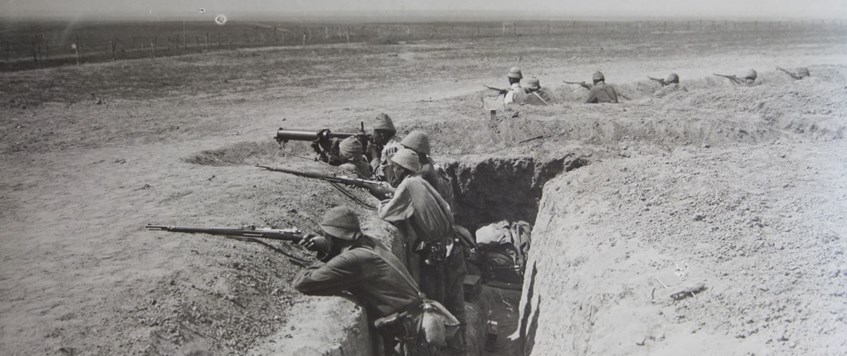 In 1917, British Prime Minister David Lloyd George ordered the Egyptian Expeditionary Force to capture Jerusalem by Christmas. This was, arguably, a diversion from the main focus of the war on the western front. He believed this would be a good 'Christmas Present' for the British people. However, the route to Jerusalem was across the Sinai desert and blocked by the Ottoman defences at Gaza and Beersheba. The eventual Allied victory at the Battle of Beersheba, was a grave setback for the Ottoman Empire and led to the eventual defeat of the Central Powers in what was then Palestine.
The presentation will be live and online.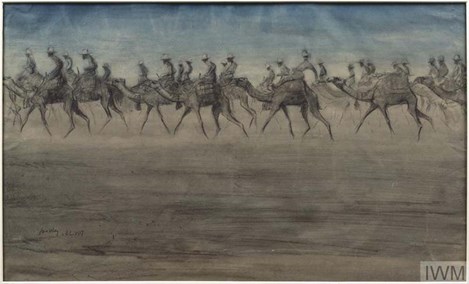 Above: The Camel Corps: A Night March to Beersheba, James McBey, 1917 (© IWM Art.IWM ART 2926)
This presentation is one of two (the next will be on 22 May) which will look at the neglected subject of the war in the Holy Land. In these talks Robert Fleming will explain more about the actions in Palestine. 
As an archaeologist, Robert primarily worked on fortifications, early military buildings, and colonial mansions in Australia and has been a guest archaeologist on Time Team. 
Members wishing to participate will need to register: details of how to register will be circulated via the WFA's newsletter 'Trench Lines'. If you are not a subscriber to 'Trench Lines' please subscribe now.
To subscribe to Trench Lines, go to the homepage of the WFA web site and complete your details in the 'Newsletter signup' box. 
It is also possible to register by clicking this link: Delayed in the Desert
The talk will be undertaken using Zoom which is freely available. It may not be necessary to load the software to your PC / iPad etc: but we would recommend doing so if you wish to participate in this event.
Your Computer, Your Home
ONLINE: 'Delayed in the Desert: The Gaza Stalemate and Beersheba Breakthrough' with Robert Flemming, membership@westernfrontassociation.com
15 May 2023 20:00