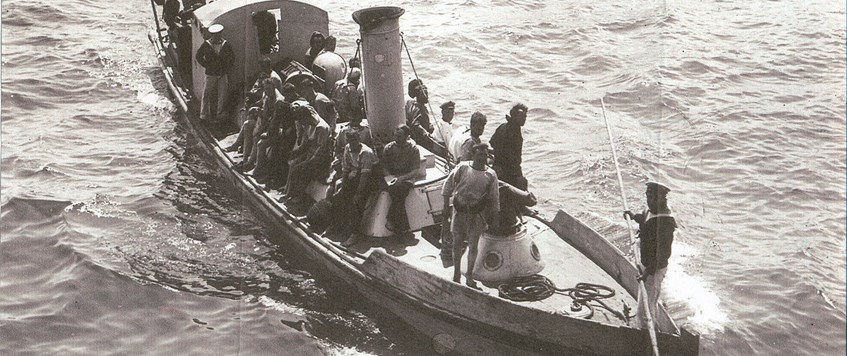 The presentation will be live and online.
One of the most intriguing characters of the Great War, Eric 'Kipper' Robinson served notably in the Gallipoli Campaign, Palestine and The Caspian Sea. 
He was decorated on numerous occasions and appears on the fringes of seemingly endless moments of history from the Boxer Rebellion, through the Battle of Heligoland Bight and the Zeebrugge Raid to the 1940 Battle of the Atlantic, this is his amazing story as told by Clive Harris.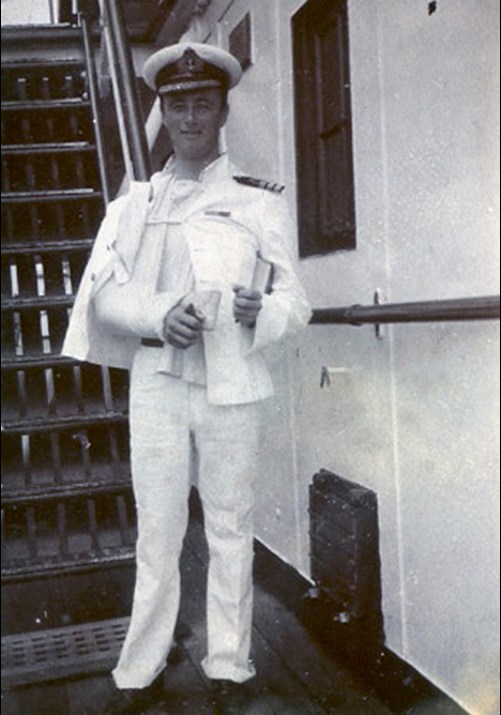 Above: Eric Robinson returning wounded to England from the Dardanelles, 1915 
Members wishing to participate will need to register: details of how to register will be circulated via The Western Front Association's newsletter 'Trench Lines'. If you are not a subscriber to 'Trench Lines' please subscribe now. 
To subscribe to Trench Lines, go to the home page of The Western Front Association web site and complete your details in the 'Newsletter sign up' box. 
It is also possible to register by clicking this link: From Gallipoli to the Caspian Sea
The talk will be undertaken using the 'Zoom' software which is freely available. It may not be necessary to load the software to your PC / iPad etc: but we would recommend doing so if you wish to participate in this event.
Please Note:  Once registrations hit capacity (we have a 1000 limit on the webinars) then you won't be able to register. If this happens, you can still watch the event via the Facebook Live Stream (subject to any technical hitches) on our Facebook page. Alternatively, these are loaded to our YouTube channel where they can be watched a few weeks after the event.  
Your Computer, Your Home
ONLINE: From Gallipoli to the Caspian Sea, the Life of Eric Gascoigne 'Kipper' Robinson VC, office@westernfrontassociation.com
03 Jan 2022 20:00