The presentation will be live and online. 
This talk by Fraser Skirrow is the story of a couple of raids, one British (by the 2/6th Battalion, West Yorkshire Regiment) one German. These took place in the area of "The Apex" near Bullecourt on the nights of 11 and 13 September 1917.  
What is unusual is that we have the story from the contemporary British account, the results of prisoner interviews and detailed accounts from the German raiders and defenders. Comparing and contrasting these stories gives us a vivid and personal insight into two violent nights in the outpost war, and the circumstances surrounding the deaths of individual soldiers on both sides.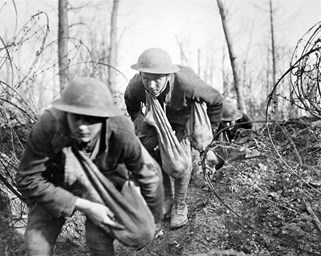 The British raid on the 11th a complex but highly successful raid on the German 71 RIR at Reincourt. On the 13th the 84 RIR replied with what has been thought to be a quick retaliation but was in truth a carefully planned operation that went badly wrong but still despite caused many British casualties.
What is special about this talk is that we know the names of the men who met in the outpost that night so it is much more personal than a clash between anonymous soldiers.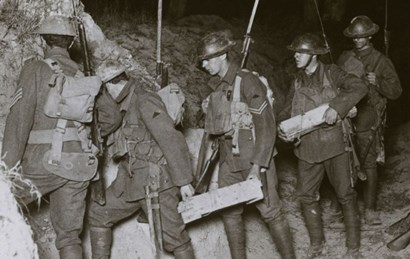 Members wishing to participate will need to register: details of how to register will be circulated via The Western Front Association's newsletter 'Trench Lines'. If you are not a subscriber to 'Trench Lines' please subscribe now. 
To subscribe to Trench Lines, go to the home page of The Western Front Association web site and complete your details in the 'Newsletter sign up' box. 
It is also possible to register by clicking this link: Ill Met By Moonlight
The talk will be undertaken using the 'Zoom' software which is freely available. It may not be necessary to load the software to your PC / iPad etc: but we would recommend doing so if you wish to participate in this event.
Please Note : > Once registrations hit capacity (we have a 1000 limit on the webinars) then you won't be able to register. If this happens, you can still watch the event via the Facebook Live Stream (subject to any technical hitches) on our Facebook page. Alternatively, these are loaded to our YouTube channel where they can be watched a few weeks after the event.  
Your Computer, Your Home
ONLINE: 'Ill Met By Moonlight': British and German raiders clash in the outpost war, with Fraser Skirrow, office@westernfrontassociation.com
25 Oct 2021 20:00