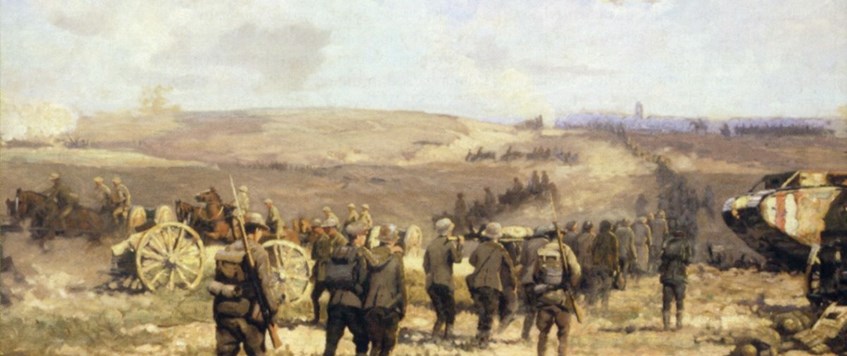 The presentation will be live and online. 
The Battle of Amiens began on 8 August, 1918 and was described by General Ludendorff as the 'Black Day of the German Army'. The BEF, spearheaded by the Canadian Corps smashed through the German lines in a surprise attack that penetrated up to eight miles.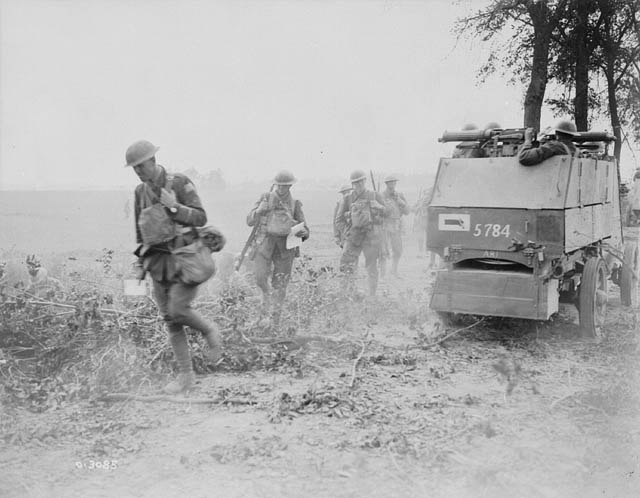 Above: Canadian troops supported by an Armoured Autocar go into action at the Battle of Amiens (Library and Archives Canada, PA-00316)
But how did the oversized Canadian Corps, the key element in the assault, get from their positions around Arras to Amiens without arousing the suspicions of the ever-watchful Germans? This talk by Rob Thompson will look at how the Canadians were spirited south whilst convincing the Germans and their own men that they were headed north.
Members wishing to participate will need to register: details of how to register will be circulated via The Western Front Association's newsletter 'Trench Lines'. If you are not a subscriber to 'Trench Lines' please subscribe now. 
To subscribe to Trench Lines, go to the home page of The Western Front Association web site and complete your details in the 'Newsletter sign up' box. 
It is also possible to register by clicking this link: Secrets and Lies: Operation Llandovery Castle
The talk will be undertaken using the 'Zoom' software which is freely available. It may not be necessary to load the software to your PC / iPad etc: but we would recommend doing so if you wish to participate in this event.
Please Note : > Once registrations hit capacity (we have a 1000 limit on the webinars) then you won't be able to register. If this happens, you can still watch the event via the Facebook Live Stream (subject to any technical hitches) on our Facebook page. Alternatively, these are loaded to our YouTube channel where they can be watched a few weeks after the event.  
Your Computer, Your Home
ONLINE: Secrets and Lies: Operation Llandovery Castle. Moving the Canadian Corps for Battle, August 1918 with Rob Thompson, office@westernfrontassociation.com
30 Aug 2021 20:00