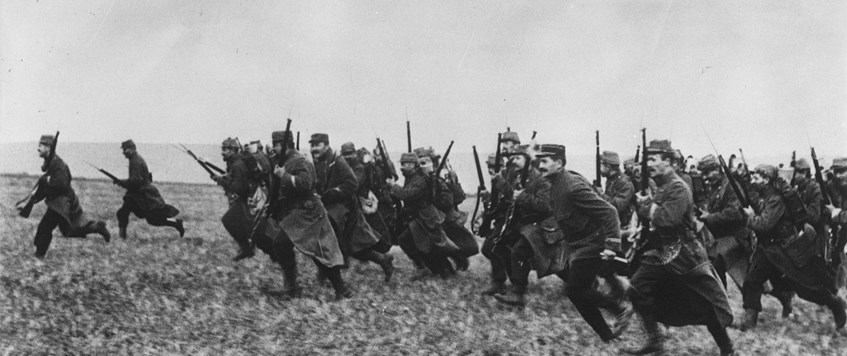 The presentation will be live and online. 
In terms of sheer scale, no matter how you measure it, the first four weeks were the most appalling of the war. Although there is some dispute over the exact figures, between 20 August and 27 August 1914, the French army lost 40,000 men with 27,000 killed on 22 August alone. The Battle of Charleroi cost the French around 80,000 casualties in three days. There was an almost 'July 1st 1916' level of attrition, but over four weeks.
The distances covered were enormous too. The German Second Army marched over 300 kilometres and fought four battles along the way. The First Army outside it marched even further. The final battle front on the river Marne stretched 280 kilometres. Yet this huge campaign was conducted by wholly inexperienced commanders using 19th century tactics of open country fighting but with twentieth century technology, notably quick firing cannon.
Even with so much new technology, and over a million men on either side, in the final analysis it was the key decisions taken by the senior commanders that decided the issue. Not just Joffre and Moltke, but Bulow, Kluck, Sir John French and a little known lieutenant colonel, the German Head of Intelligence Richard Hentsch.
The talk by Ross Beadle identifies the ten key decisions taken by the respective commanders. Understanding what drove these decisions is the best way to get to grips with the crazy swirl of events up until Moltke opted to break of the action and ordered a German retreat to the river Aisne.
Members wishing to participate will need to register: details of how to register will be circulated via the WFA's newsletter 'Trench Lines'. If you are not a subscriber to 'Trench Lines' please subscribe now.
To subscribe to Trench Lines, go to the home page of the WFA web site and complete your details in the 'Newsletter signup' box. 
It is also possible to register by clicking this link: The 10 Decisions that decided the March to the Marne
The talk will be undertaken using the 'Zoom' software which is freely available. It may not be necessary to load the software to your PC / iPad etc: but we would recommend doing so if you wish to participate in this event.
Your Computer, Your Home
ONLINE: The 10 Decisions that decided the March to the Marne by Ross Beadle, membership@westernfrontassociation.com
16 Jan 2023 20:00