The presentation will be live and online.
This is a recreation by WFA volunteers of the transcript of two courts martial. The first is the famous case of Willie Stones (who famously claimed he blocked the trench with his rifle to stop pursuing Germans) and the second is a "mass" court martial of six men from the DLI. These are delivered "back to back" and enable us to see how these courts martial were carried out.
There will be a break between these two recreations and after each attendees will be asked if they consider the accused soldiers guilty or not guilty. 
This is not a fictionalized but the exact, verbatim, account of the events at two 'trials' which took place in 1916.
If you are in any way interested in the subject of 'Shot at Dawn' cases, this is not to be missed.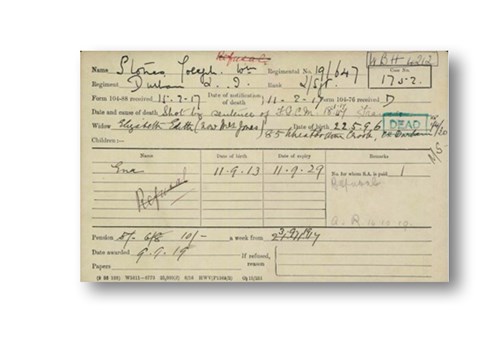 Members wishing to participate will need to register: details of how to register will be circulated via the WFA's newsletter 'Trench Lines'. If you are not a subscriber to 'Trench Lines' please subscribe now. 
To subscribe to Trench Lines, go to the home page of the WFA web site and complete your details in the 'Newsletter signup' box. 
It is also possible to register by clicking this link: The Court Martial of Willie Stones and the 'DLI 6'
The talk will be undertaken using the 'zoom' software which is freely available. It may not be necessary to load the software to your PC / iPad etc: but we would recommend doing so if you wish to participate in this event.
Your Computer, Your Home
ONLINE: The Court Martial of Willie Stones and the 'DLI 6', office@westernfrontassociation.com
20 Jul 2020 20:00