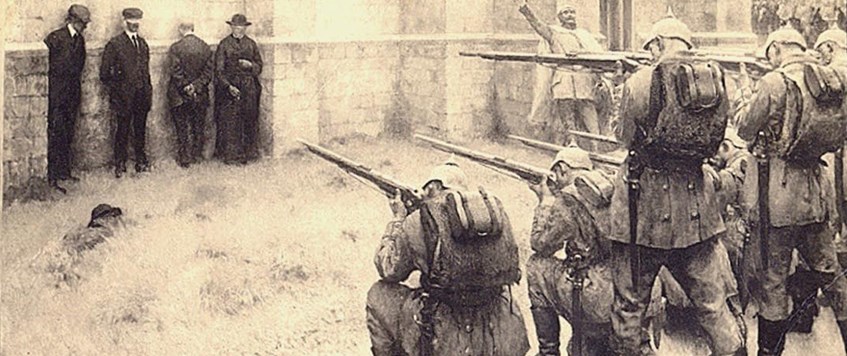 The presentation will be live and online. 
In this talk Hedley Malloch will detail how, on 25 February 1915, the Germans shot eleven British soldiers who had been lost during the retreat to the Marne, and one Frenchman, in Guise Chateau after first making them dig their own graves.
This the soldiers' story (two of whom were from Yorkshire), of the French people who helped them, and of the Germans who killed them. It tells of their life on the run, of the two betrayals in the village of Iron, which delivered them to the Germans.
Their executions were part of a larger pattern of such killings of British soldiers committed by the Germans in their rear-zone known as Etappe no.2 based in Saint-Quentin.
A mystery surrounding the tragedy relates to a twelfth soldier who may have escaped at the last minute. Who was he and what was his fate? The talk will also consider why, after the war, the British government did nothing about these breaches of The Hague Conventions.
Members wishing to participate will need to register: details of how to register will be circulated via the WFA's newsletter 'Trench Lines'. If you are not a subscriber to 'Trench Lines' please subscribe now. 
To subscribe to Trench Lines, go to the home page of the WFA web site and complete your details in the 'Newsletter signup' box. 
It is also possible to register by clicking this link: The Killing of the Iron Twelve
The talk will be undertaken using the 'Zoom' software which is freely available. It may not be necessary to load the software to your PC / iPad etc: but we would recommend doing so if you wish to participate in this event.
Your Computer, Your Home
ONLINE: The Killing of the Iron Twelve, office@westernfrontassociation.com
22 Feb 2021 20:00