The presentation will be live and online.
Tim Cook, the First World War historian at the Canadian War Museum in Ottawa and the author of 12 books, explores how Canadian soldiers coped and endured on the Great War battlefield. Through reading soldiers' letters, diaries, and memoirs, Tim has uncovered a culture of song, poetry, trench newspapers, superstitions, theatre shows, and other leisure activities that bound the soldiers together and helped them to survive the inhumane conditions of the Western Front.  This presentation is based on his award-winning, best-selling book, The Secret History of Soldiers: How Canadians Survived the Great War (2018)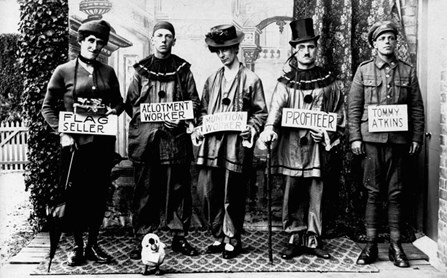 Dr. Tim Cook, CM, FRSC is a historian at the Canadian War Museum. He was the curator for the museum's First World War permanent gallery and he has also curated numerous temporary, travelling and digital exhibitions. Cook is the author of 12 books and they have won the C.P. Stacey Prize for Military History (twice), the Ottawa Book Award (three times), the RBC Taylor Prize for Literary Non-Fiction, and the J.W. Dafoe Book Prize (twice). His latest book is The Fight for History: 75 Years of Forgetting, Remembering, and Remaking Canada's Second World War (2020).
In 2012, Dr. Cook was awarded the Queen's Diamond Jubilee Medal for his contributions to Canadian history and in 2013 he received the Governor General's History Award. He is a frequent commentator in the media, a member of the Royal Society of Canada, and a Member of the Order of Canada.
Members wishing to participate will need to register: details of how to register will be circulated via the WFA's newsletter 'Trench Lines'. If you are not a subscriber to 'Trench Lines' please subscribe now. 
To subscribe to Trench Lines, go to the home page of the WFA web site and complete your details in the 'Newsletter signup' box. 
It is also possible to register by clicking this link: The Secret History of Soldiers
The talk will be undertaken using the 'Zoom' software which is freely available. It may not be necessary to load the software to your PC / iPad etc: but we would recommend doing so if you wish to participate in this event.
Your Computer, Your Home
ONLINE: The Secret History of Soldiers: How Canadians Survived the Great War by Dr Tim Cook, office@westernfrontassociation.com
21 Sep 2020 20:00