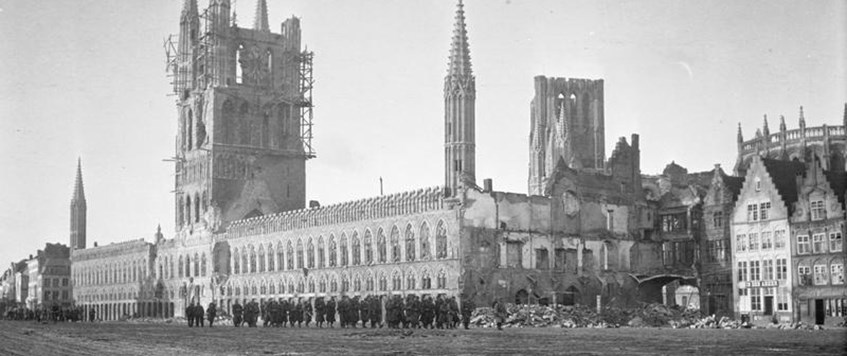 Image: Sgt Christopher Pilkington. This photograph is © IWM Q57287 from the collections of the IWM - View across the market square of Ypres towards the Cloth Hall (Lakenhalle) and St Martin's Cathedral – November 1914.
The annual Remembrance ceremony in Ypres this year will commemorate the 105th Anniversary of the Armistice. There will be a number of events in the city on the day.
9.15am – Service in St George's Church
9.30am – Service in St Martin's Cathedral
10.20am – Poppy Parade starts
10.30am – Parade stops to lay wreaths at the Belgian Monument
11am – Ceremony of Remembrance and Last Post at the Menin Gate
11.50am – Parade back to Ypres main square.
12.30pm – West Police Band display on the main square.
This year, the official Western Front Association wreath will be laid by Honorary President, Professor Gary Sheffield and European Field Officer, Michèl Admiraal. But other wreaths may be laid at the end of the main ceremony.
 Due to the current restoration work on the Menin Gate, there may be some slight changes from previous years to the route of the parade and site used for the main ceremony. Watch for further details at Ypres Visitor Centre 
The Last Post Association will also be holding  a series of charity 'Great War Remembered' concerts to be held at St Martin's Cathedral on the evenings of the 11th November (5pm and 8.30pm) and the 12th November (5pm only). The concerts will deliver a wide variety of evocative instrumental and vocal music against a backdrop of First World War images. e-tickets must be pre-booked in advance and are available at  Last Post Association Concerts 2023
Please note that parking is free in the peripheral car parks, but there will be no parking in the main square.
Menin Gate War Memorial , Menenstraat, 8900 Ieper, Belgium
Ypres Poppy Parade and Remembrance Ceremony, toerisme@ieper.be
11 Nov 2023 09:15