In 1982 a survey went out with Issue. No.5 of Stand To! It asked members what they were interested in. This list of 'requests' immediately fed into the content for the following decade and represents the exceptional broad range of material readers and researchers can enjoy. These are the items that interested readers then: 
Artillery

War Artists

Hand Grenades

War Pensions

Previously unpublished first-hand accounts of the war on the Western Front

RFC & RAF

Tunnelling

Views from 'the other side'

Tanks

Life Behind the Lines

Clearing up Army

Trench routine and weapons

The Generals

Medical Service

Military Prisons

French Army Mutinies

The Machine Gun Corps

Ireland during the war

The Use of Cavalry!

The work of the Salvation Army and other civilian organisations on the Western Front

A guide to the Public Record Office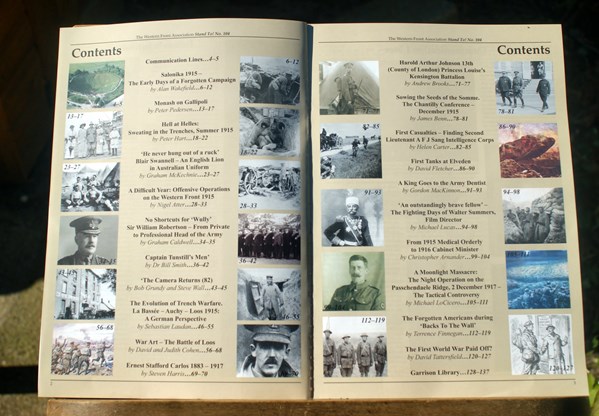 There are 1,249 articles and 1,910 book reviews here. This comes to around 8 million words in total.
Discover articles to by John Terraine, John Giles, Corelli Barnett and Malcolm Brown and regular contributions from David Cohen, Terry Cave, Bob Wyatt and David Filsell.
John Terraine, a highly active WFA Honorary President in his time, addressed members each year (his address was transcribed and published in Stand To!). His 'Letters to the Editor' are published, as well as articles and reviews of his books.  'The Final Offensive' was his 1993 Presidential Address.
Since the editorship of Jon Cooksey over ten years ago, each edition of Stand To! - has been a book-sized publications of 100,000 words (standard edition) or 150,000 to 160,000 (specials).
David Filsell, now Tzar of Book Reviews for the magazine, first wrote for Stand To! - in 1986. He personally has contributed several hundred books himself.
There are 68 articles related to America's role in the war and another 38 each on Canada and Australia, and 10 on Ireland.
There and 90 editions of 'The Camera Returns' to uncover. These 'Then and Now' photographs by Boby Grundy and Steve Wall first appeared in Spring 1987. Today you can enjoy using Google Street View to compare the orginal photographs with the present day.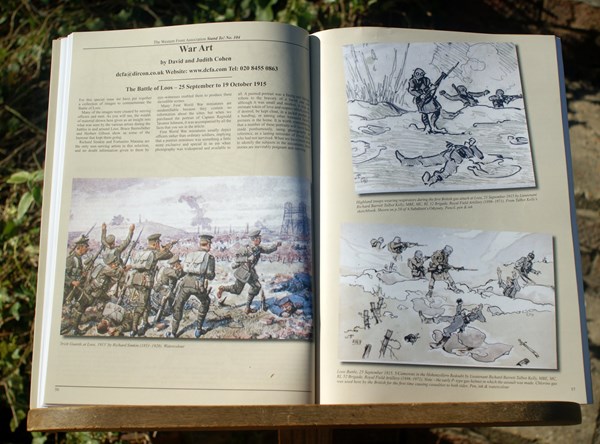 There are 72 editions of 'War Art' written by David Cohen which over the last decade he wrote with his wife Judith Cohen. In each case these articles are a substantial, fully illustrated article of a different war artist is introduced with a selection of their work. David Cohen is remarkable. He was the Vice Chairman of the WFA, then the Chairman for three years. At first he contributed the occasional piece relating to artists of the First World War to Stand To! and then settled down into producing something for every issue from Summer 1988 to the present issue.
14 book reviews have been submitted by Gary Sheffield. He isn't the only historian to do these.
Members have access to the full back catalogue of Stand To! using the member LOGIN.