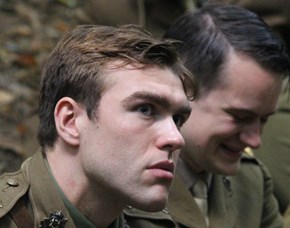 With the Journey's End film released this year, there now comes a rare chance to see it LIVE in the very landscape which inspired it a century ago.
MESH Theatre's 5 Star production opened at Ypres' Gunpowder Store (Het Kruitmagazijn) in Belgium last Autumn to universal acclaim and returns to Ypres to bring Armistice events to a close, 10 October to 12 November
Writer R C Sherriff fought on the Western Front and was wounded at Passchendaele in 1917. He sets the play in March 1918 over three days leading up to the German Spring Offensive (Operation Michael).  
Men Sherrif fought with in the trenches are clearly recognisable in his colourful cast of characters holed up in a dugout on the front line, anticipating the terrifying attack. Lead character Captain Stanhope, first played by a young Laurence Olivier in 1928, is troubled by the arrival of his boyhood pal 2nd Lieutenant Raleigh.
The resulting story is, the Telegraph said of the MESH production "ever-enthralling, good-humoured and finally heart-rending."
Audience after audience in Ypres gave it standing ovations.
The play's director Sally Woodcock discusses why it had such impact:
"It's a combination of factors. They say good directing is 90 per cent casting: we had superb actors who brought a passion for the subject which took it to a new level. It's a much-loved play, we received over a thousand submissions for 10 parts, so saw those who wrote to us personally and this paid off. I felt the magic happening in rehearsals on day one: the guys knew exactly where to hang their packs, when to take off their helmets, the research was done - which gave us time to dig around in the text for every ounce of meaning. Secondly, the play is a classic for a reason: it's a brilliantly-crafted story with characters who strike real chords for people, especially soldiers, because it was written by a soldier and that authenticity is unmistakable. One ex-serviceman who's been Battlefield-guiding for 25 years said, 'I'll never walk past a 2nd Lieutenant's headstone again without seeing what I've just seen in there.'  Add to that a momentous point in time – the Centenary - and an iconic place – the 200-year old munitions store a ten minute walk from the Menin Gate - and you have something unforgettable. But that's what live theatre does: it gives you a direct line to lived experience – the 'whiff of cordite', as Mike Peters puts it, which has a potency like nothing else."
Woodcock's favourite tributes are what she calls "the sublime and the ridiculous". "The 'sublime' in a handwritten letter from General Sir James Everard KCB CBE, Deputy Supreme Allied Commander Europe: 'We saw Journey's End last Saturday. It captured the atmosphere, tensions, humour and tragedies of trench life brilliantly. We teach all young officers that war is a trial or moral and physical strength, shaped by human nature and subject to the complexities, inconsistencies and peculiarities which characterise human behaviour. We also tell them – and they learn – that any view of the nature of war is incomplete without the consideration of the effects of danger, fear, exhaustion and privation on the men and women who do the fighting. For me this is what Journey's End captures so well.'
The 'ridiculous' (and delightful) was another handwritten note  from a school girl, 'Thank you for the amazing play. And sorry for crying so much at the end.'
The Telegraph said: 'It might sound like the height of extravagance to recommend crossing the Channel for a few hours of theatre, but it honestly feels like paying the bare-minimum tribute… See it, then, and weep.' "  
Journey's End is now on sale at www.meshtheatre.com/tickets.
10 October to 12 November 2018 at Kruitmagazijn, Esplanade, Ypres, Belgium
DATES: 10 October to 12 November (previews 8, 9 October)

TIMES: 3pm / 7pm Private shows by arrangement

PLACE: Het Kruitmagazijn (Gunpowder Store), Esplanade, Ieper / Ypres

DURATION: 2 hours

TICKETS: €22.50 standard / €15 groups of 10+ / €12 students and military