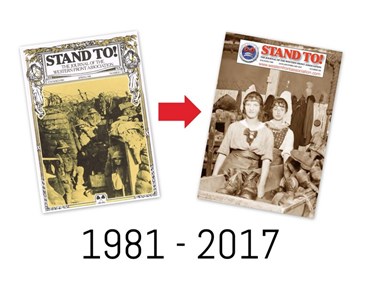 All copies of Stand To! From 1981 to January 2017 (Issues 1 - 129) are now available to Members in digital form via the WFA Member Login.
There are 1,649 articles and additional shorter items and 2,310 book reviews.
As stated early on its history 
Stand To! aims to publish articles and other material which throws light on the war itself - contemporary letters, cartoons, diaries, memoirs, and researched articles analysing what happened around the time of the Great War, and how those events were responded to.
From around Issue No. 80 (September 2007) the publication of Stand To! has equated to the production of an average sized book of 100,000 words with the 'Specials' closer to 150,000 to 160,000 words.  
To help you find content of interest, a comprehensive 'contents page' for each issue lists all articles and their authors, items and book reviews.
In this way you can browse or search for content or select a 'Tag' and call up all those issues. 
Enjoy the 90 issues of 'The Camera Returns' by Steve Wall and Bob Grundy.

View the 72 issues of 'War Art' by David Cohen (latterly with Judith Cohen).

Find the 65 items, articles and book reviews on America's role in World War 1. 
The meticulous use of 'tags' will help you find and group articles by theme, or author.
Regular contributors, some over 20 years or more, include:
Terry Cave

Bob Wyatt

Tony Spagnoly

Leonard G Shurtleff

Ray Westlake

Paul Cobb

Jim Minnoch

Louis Ackroyd

Dr David Payne

Walter Kudlick

David Filsell
Issue No. 108 is available to all.