Rededication to Major Alastair Soutar MC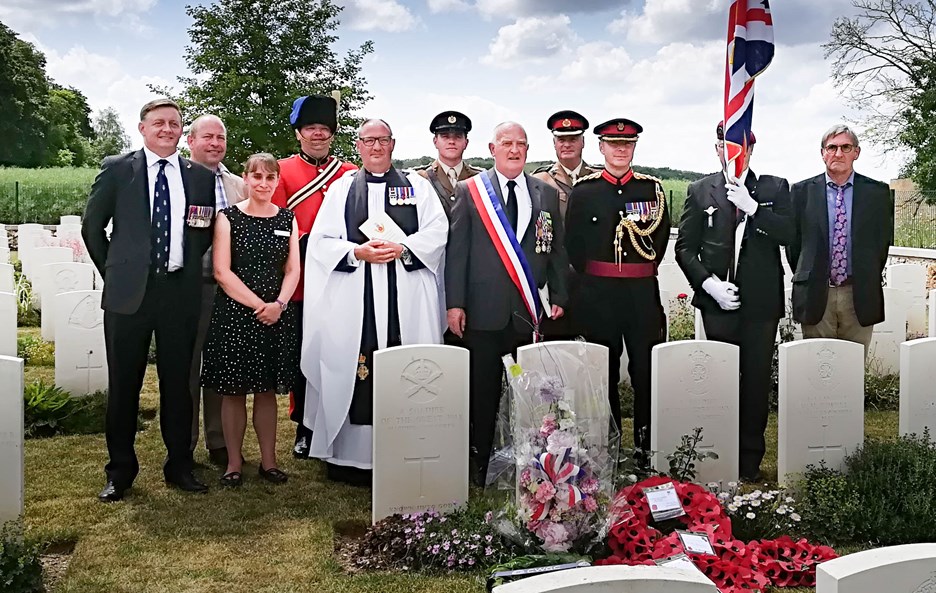 La Ville aux Bois 30 May 2018


The usual quiet and peaceful tranquility of the British cemetery at Jonchery sur Vesle was broken this morning when members of the Soutar family from as far afield as Hong Kong, Canada and New York arrived to attend the rededication of the grave of Major Alastair Soutar MC, Royal Engineers who was killed in the Third Battle of the Aisne.
Besides the family, the British Military attache Colonel Christopher Borneman (British Embassy in Paris) was present as was Captain Ben Key of the Royal Engineers.  
Read more about the rediscovery of the last resting place of Major Soutar > HERE: Major 'Alastair' Soutar MC.
There were many highlights to the ceremony, including the piping of 'Flowers of the Forest' played by Robert Soutar - one of the numerous relatives to be present.
A reading of 'In Flanders Field' by Alistair Soutar (aged 10) was exceptionally moving.
Coverage of the event was provided by the BBC who also discussed the circumstances around Major Soutar's death with David Tattersfield the WFA's Vice Chairman.
Subsequent press interest was intense with newspapers asking for details of the circumstances immediately after the BBC broadcast.
Rededication to Major Octavius Darby-Griffith
A subsequent ceremony took place on the afternoon at La Ville aux Bois for a similar rededication ceremony for another officer who was killed exactly 100 years previously.
At this event, for Major Octavius Darby-Grffith there was still a strong representation from both the regimental 'family' as well as the JCCC (part of the Ministry of Defence) and The Western Front Association. No family were present.
Read the full article 'For Private to Major via the Foresters Arms' : The life, death and rediscovery of Octavius Darby-Griffith, MC.
With an introduction from The WFA, this is the piece put out by BBC Jersey
You may also be interested in the talk being given by David Blanchard on the Battle of the Aisne. This is a York WFA branch event on 9 June. 
'The Aisne Again: May 1918, the essence of the Blitzkrieg'
This was a significant battle that also marked the turning point on the Western Front. The Battle of the Aisne which opened on 27 May which resulted in the greatest one-day advance on the Western Front since trench warfare began in September 1918.