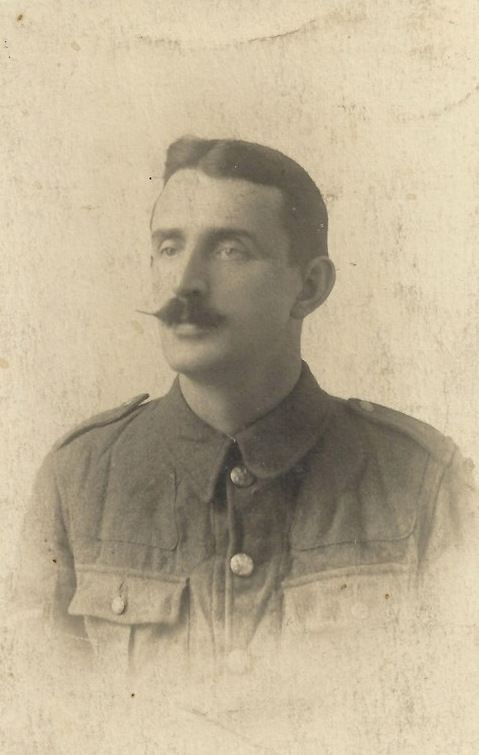 The play Dear Chocolate Soldier is a based on the letters of Edwin Hassall, who served on the Western Front between 1914 to 1918.
During the Great War people in Britain often sent parcels to the troops in France.  
In 1916,  six year old Joan Burbidge sent some chocolate out to France.
Wanting to make sure that the troops knew who had sent it, her father wrote on the flap of one of the cartons
"From Little Joan, Whiterock, Wadebridge"
It was Edwin Hassall, an Acting Sergeant in Royal Garrison Artillery, who found the Nestlé chocolate packet. It was in a trench that had recently been taken from the Germans during the fighting on the Somme.
On the packet (now empty) was written:   
From  Little Joan,  White Rock, Wadebridge, Cornwall.
Touched that the children of England were thinking of the soldiers at the front Edwin Hassall wrote to Little Joan and her father wrote back.
A lengthy correspondence followed and as a result we have a vivid, personal and often traumatic picture of life in the trenches.
Much of the letter's contents would have been lost on a the six-year old Joan, but Edwin was canny enough to thank her for "a message from the children of England in who's defence we are fighting" and say how it had "cheered" him.
Dramatised, these letters have turned into a performance that includes songs and poetry from the period.
The Chocolate Soldier is be performed by three professional actors and a pianist.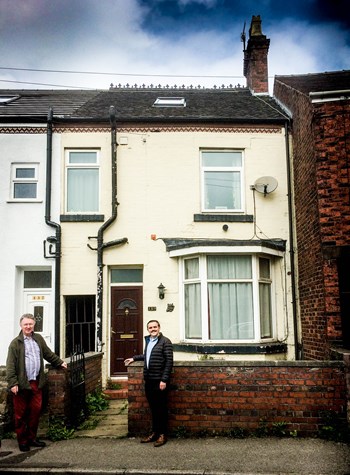 Edwin Hassall's house in Leek 
Performance Dates and Venues
'Dear Chocolate Solider' will be performed once again in Leek in Staffordshire (having opened there in  May). Edwin Hassall, the soldier in question was born in Leek, living at 113 Ball Haye Green.  
'Dear Chocolate Solider' will then be performing in schools on the 22 and 23 October.
The Autumn and 'Armistice Tour'
This runs from 22 October to 11 November with a week at the OSO Community Arts Centre, Barnes from  6-10 November.
There is an additional Armistice Centenary Performance on 11 November at The Hen and Chickens Theatre, 109 St Pauls Road, London, N1 2NA. 
The Summer Preview shows of May/June 2018 were a great success. Here are some of the reviews: 
From the great nephew of Edwin Hassall:
Dear Chocolate Soldier …  was a superb creation of which you should be very proud, with really great performances ...  (From the great nephew of Edwin Hassall)
From his great  niece:
Dear Chocolate Soldier … was moving and dramatic.  Well done! .... And Aunt Emma would never have worn a scarf -  a hat is essential! (From the great great niece). (The actress playing Emma took to wearing a hat after this comment).
Further reviews:
Thinking of my uncle Percy Lymer who was on the Somme.  Very emotional and we should remember them. (Lynne Smith).
Very well integrated primary and secondary sources.  I think it would match very well with A level History and English syllabus.
Historia Theatre Company was founded in 1997 with the aim of putting on plays that have their source in or inspiration from history.  Early productions included A Passionate Englishman which then went on to transfer to the City of London Festival in 2000 with a prestigious production at All Hallows By the Tower.
The object is the advancement of education by the encouragement of the arts including the arts of drama, mime, dance, singing and music, particularly through the establishment of a theatre company to stage plays which have their inspiration or source in history.  
The Company became Registered Charity 1099807 in 2003.
For a BBC article and original photographs: Chocolate Soldier's Letters to Mascot Girl