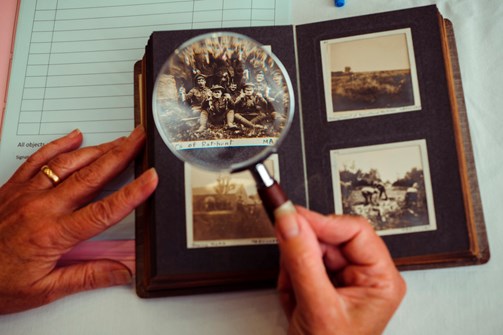 The Commonwealth War Graves Foundation is working in collaboration with the University of Oxford to create a digital archive of the First World War artefacts stored in bedrooms and attics across the UK.
Funded by the Heritage Lottery Fund we will be staging events across the UK, encouraging people to bring along their family heirlooms to be included in the project. After kicking off the project with our Edinburgh Roadshow in collaboration with the National Library of Scotland, we are now looking forward to a host of local collection days across the country.
Go to 'Lest We Forget' to find an event near you and bring your First World War mementos and stories to have them recorded on our public digital archive.
This archive will be going live on November 11th. Everyone will be able to read the stories and see the objects we've recorded. If you can't make it to a collection day, you can go to >> Add to the Collection
Getting Involved : Collection Days and Volunteers
If you'd like to get involved further, we provide support and training for you to host your own digital collection day, from the planning stages through to the uploading process. You can also sign up as a project volunteer if you aren't able to host your own event. We'll let you know of events happening near you, and you can help out in a variety of roles, from interviewing visitors to record their First World War stories to photographing the objects they bring in.
Host a Collection Day
Hosting a collection day in your local area is a great opportunity to see objects and artefacts from the First World War and to hear the personal stories that have been passed down, all while contributing to a national, publicly accessible archive project to preserve these stories for the future.
More information can be found HERE > Lest We Forget 
If you are interested in volunteering, fill out the 'Expression of Interest' form at the bottom of the page and send it to volunteers@cwgc.org. You can also use that email address if you have any questions about this project.
IMAGES: Members of the public took their First World War artefacts like this photo album into the National Library of Scotland to be digitised as part of a nationwide campaign to preserve memories of the Great War. Photo : Maverick Photo Agency (courtesy of Lest We Forget)