Members of The Western Front Association will be delighted to learn that the first of a series of releases of the WFA's Pension Record Cards and Ledgers archive have been made available through Ancestry.
The first two sets of records to be released account for about 0.1% of the records the WFA saved from destruction with a much larger release of records scheduled for November.
The records that Ancestry have released this week are two very small sets of papers relating to Naval and Mercantile Marine personnel who claimed pensions.
Naval Records
The Naval Records that have been published contain a number of resources originally contained in a series of 33 large binders (measuring 43cms by 28cms). These comprised 3 'index binders' and 30 'registers'. The registers containing a rich resource of information for about 7,500 men of the Royal Navy who were killed "in warlike operations" and whose widows (and, where relevant, children) claimed a pension.  What these records do not include are unmarried men, men from the Royal Naval Division who fought as soldiers (although there is an occasional exception to this 'rule') and Royal Naval officers. Approximately 20,000 men are named in addition in the 'index binders'.
Of immediate interest is a document entitled "Regulations for the Grant of Pensions to Widows and Allowances to Children of Seamen and Marines" dated 1 January 1909.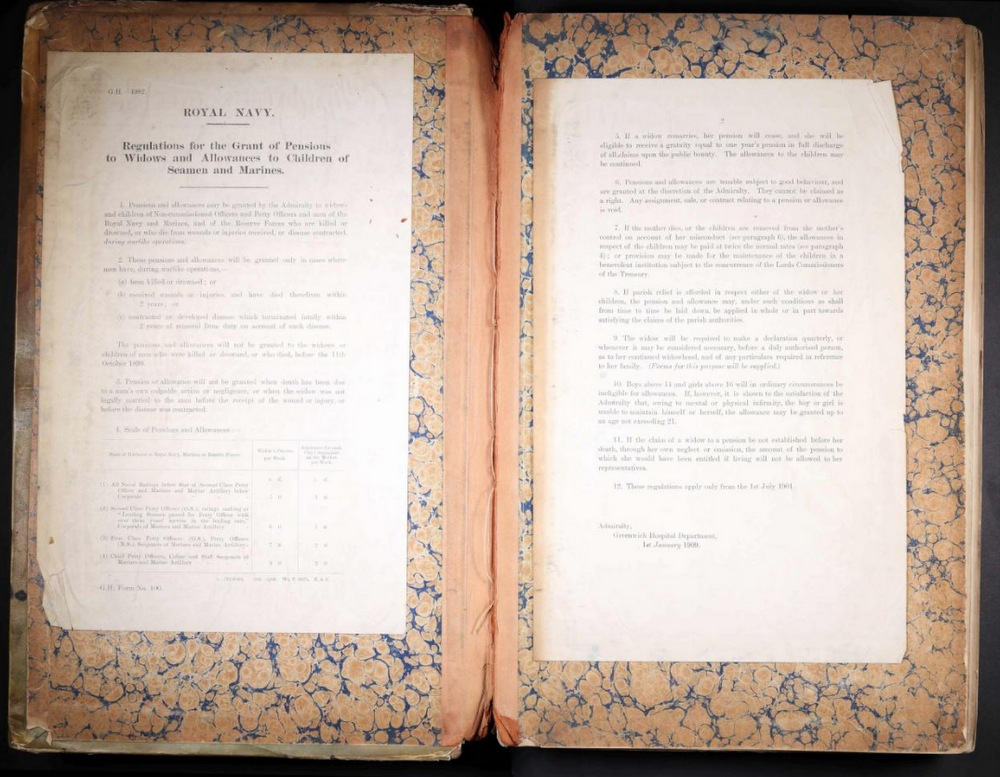 Most of these 7,500 records detail - as a minimum - the sailor's name, rating, ship and date of death as well as the widow's name, date of birth and date of marriage. Children of the couple are detailed, together with the child's date of birth. Details of the pension awarded (and initial payments made) are provided together with what appears to be the post office branch where the pension could be collected.
In addition to the above 'standard' information there is also often either additional handwritten information provided and sometimes documents or correspondence 'pinned' to the original page which can provide much further information.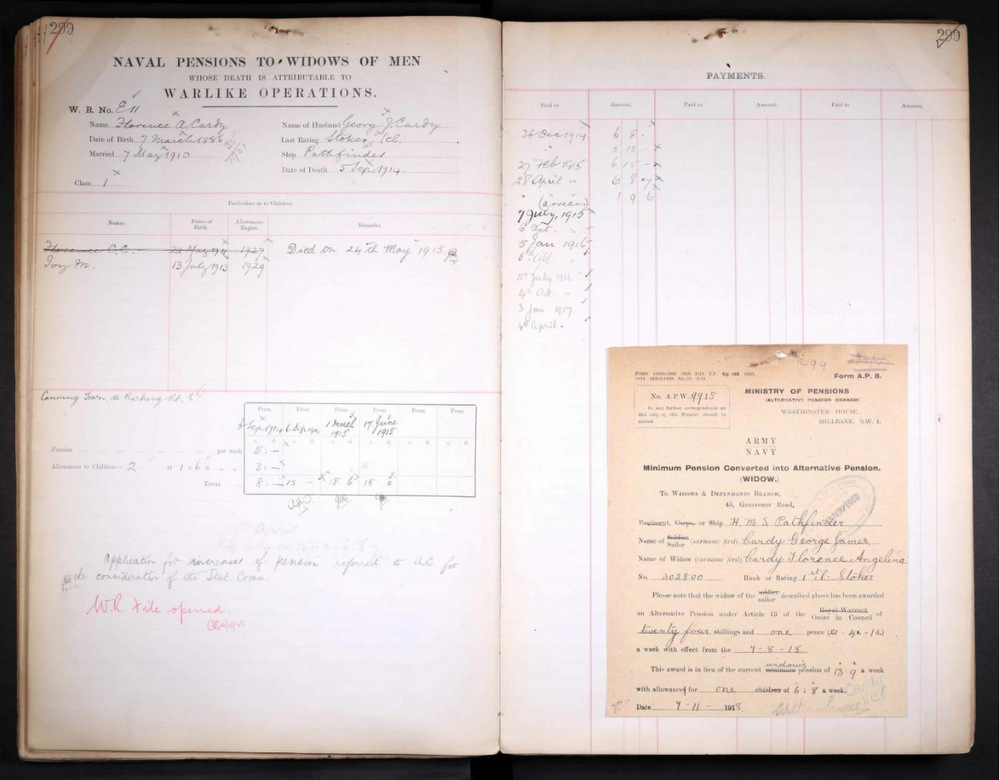 Pension record for Florence A Cardy widow of George Cardy who was killed on HMS Pathfinder on 5 September 1914. This shows extra detail about the pension that was converted to an 'Alternative Pension (Widow)' in 1918.
There is also the case of Matilda Harrison (widow of Henry). Henry was killed on board HMS Cressy on 22 September 1914. Their three children were sent to an orphanage no doubt due to the assessment made of Matilda who was "...weak minded and addicted to drink" resulting in an "...enquiry as to Mrs Harrison's behaviour... before further pension issued".

Although the pension was to be continued (note dated 22 September 1915) this was paid to the Royal and Marine Home (possibly the orphanage?) at a rate of 3/6 a week.
The records in these 30 registers seem to cover all Royal Naval shipping losses from the very start of the war (HMS Amphion) up to and beyond the Battle of Jutland on 31 May 1916. Included in these records are, for instance, the pensions claimed by widows of sailors who were lost on HMS Hampshire - the ship on which Secretary of State for War, Field Marshal Lord Kitchener was lost when the warship was sunk after hitting a mine on 5 June 1916. Possibly the last naval loss recorded in these pension records is that of HMS Duke of Albany which was sunk on 25 August 1916.
The three index binders extend beyond this date, and include men who were lost at sea later in the war, but without the level of detail that is described in the 30 registers.
Some commissioned vessels were ships that had been taken on by the Royal Navy at the outbreak of war. These warships were manned by both naval and civilian crews. One such example is RMS Carmania.   There are a number of pages relating to Royal Naval personnel who were killed on this vessel when it went in action on 14 September 1914 with a German auxiliary cruiser the SMS Cap Trafalgar.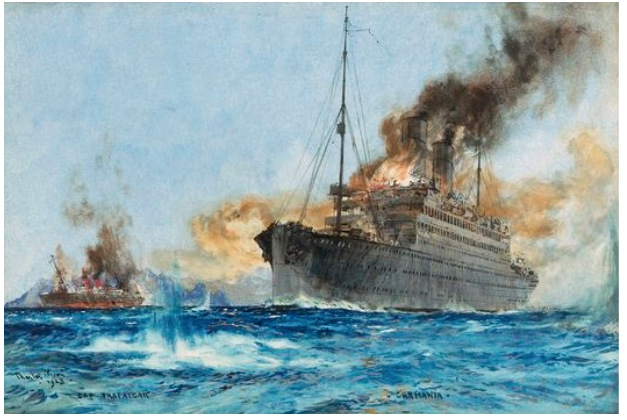 Carmania sinking Cap Trafalgar off Trinidad, September 14, 1914 (Image Courtesy Wikipedia)
One of the records (in the Merchant Marine record part of the archive) is for a sailor called AJ Pollard - who would have been a civilian. The fact that he is not recorded by the Commonwealth War Graves commission despite his record indicating he died due to enemy action is possibly worth following up.
The Merchant Marine Cards
Pollard's card, mentioned above, is one of approximately 4,400 cards of Merchant Marine sailors who claimed (or whose next of kin claimed) pensions for injury (or death) in the First World War. Clearly this is just a fraction of those men who were killed and wounded in the Merchant Navy - it is unclear why this record set extends to just 4,400 cards, however this remains a useful resource for those men whose details are recorded.
Interestingly the records extend beyond 1918, with 141 records for men killed (or wounded) in 1919; 71 for the year 1920; 24 for 1921 and five for 1922. The last recorded card in this series is for a sailor named John Henderson whose date of death is recorded as 1936.
This record set - which can be searched as part of the same set on the Ancestry web site - does not record pension entitlements or name children, but does detail the name of the sailor's widow and often details home addresses. Interestingly there is frequently found details of the injury or wound that the seaman suffered as well as the date of the incident that led to the injury or death of the sailor.  As with all original records, some care may be needed in not necessarily treating the information supplied on the cards as 100 per cent accurate. The example of George Newmarsh is a case in point. George was lost at sea from the fishing trawler 'Earl' which was based in Hull. He is recorded by the CWGC as being killed on 21 January 1916 but the card below details 28 January (as the trawler was lost without trace and with 'all hands' the difference in the dates is understandable). However, the CWGC record George as 'Newmarch' but the original card details his name as 'Newmarsh' (although this is supplemented by a different - and seemingly subsequent card).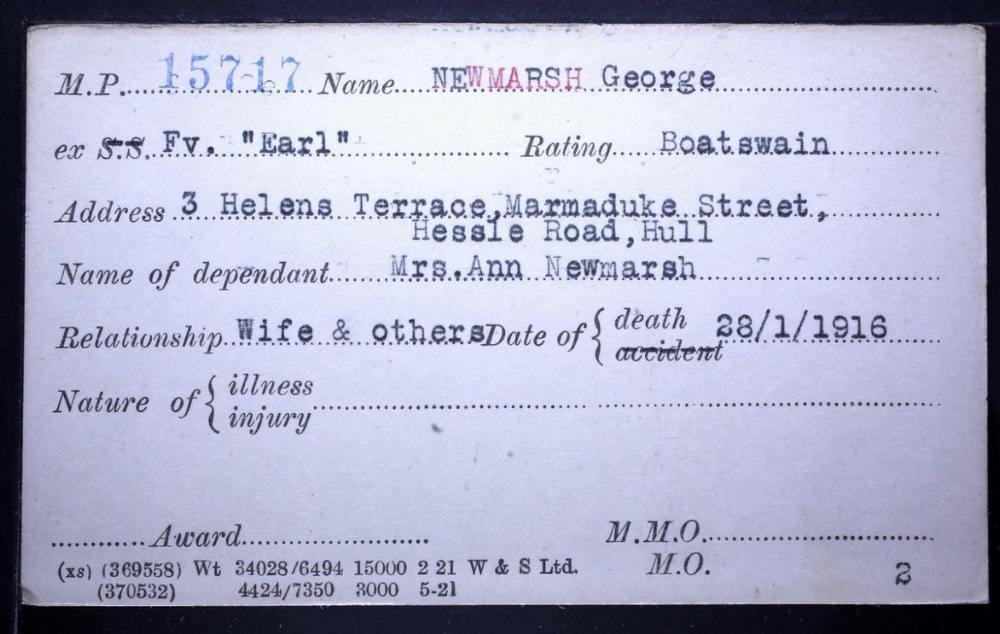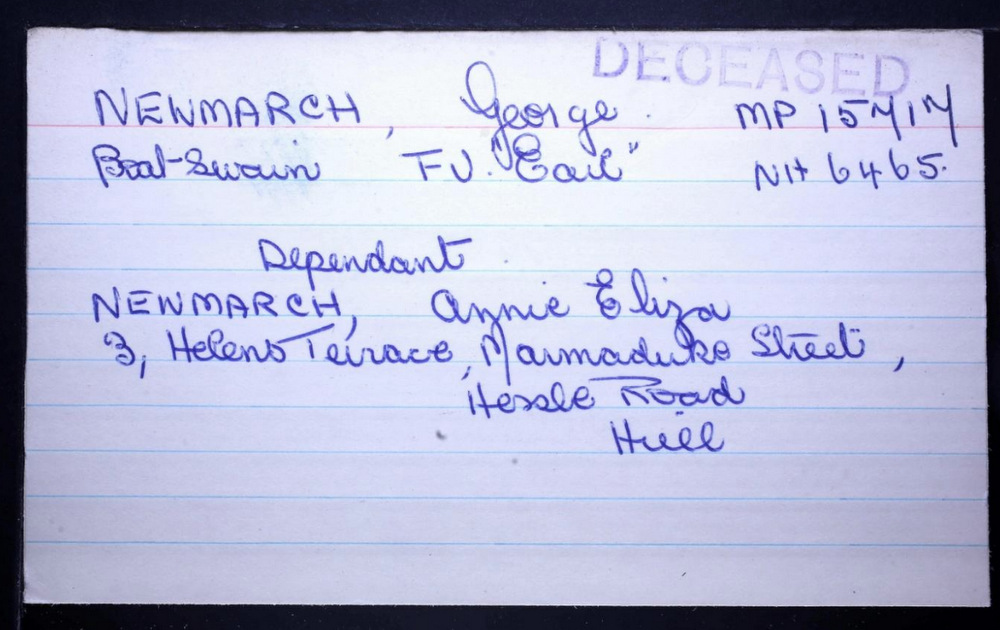 Other examples of these Merchant Marine cards are shown below. First of all two from the sinking of the Royal Edward
Assistant Baker Edgar Wade suffered severe injuries when the Royal Edward was sunk on 13 August 1915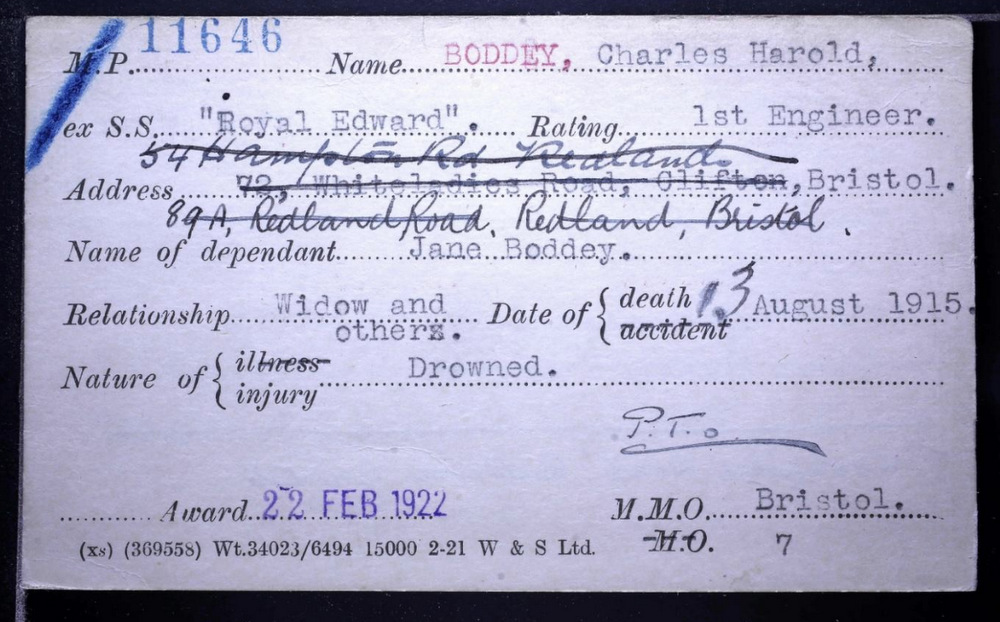 1st Engineer Charles Boddey was drowned when the Royal Edward went down - there are nine further addresses listed on the reverse of this card !
RMS Lusitania
Whilst the sinking of the Royal Edward is relatively well known, the loss of RMS Lusitania is probably known by an even wider number of the general public. There are 82 records in this set relating to men who were injured or killed on board this vessel.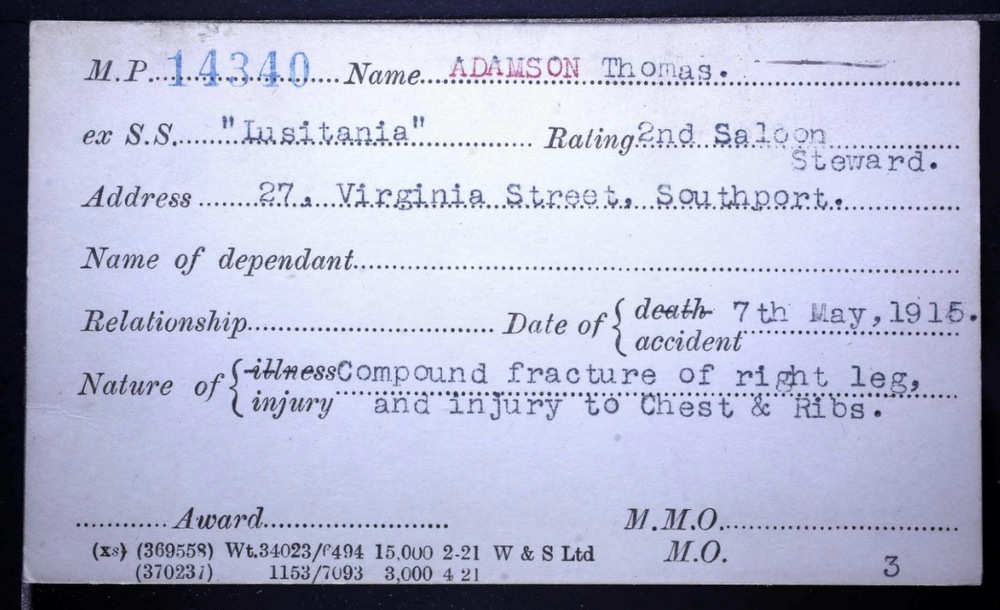 Just one of the records of the men who were on board the Lusitania is that of Thomas Adamson. He survived, sustaining a number of broken bones.
One of the most poignant records is that of John Carter Cawsey. He was master of the schooner SV (sailing vessel) Reward.
The ship was lost on 12 March 1917 en route to the Channel Islands. Sunk by gun fire from a German submarine off Falmouth, the vessel went down with five men drowned. Besides the Master, John Cawsey, his son, Sydney was also lost. The Commonwealth War Graves Commission list him as being 14 years of age, but it is likely he was in fact still short of his 14th birthday. This may well make him one of the youngest fatalities of the war.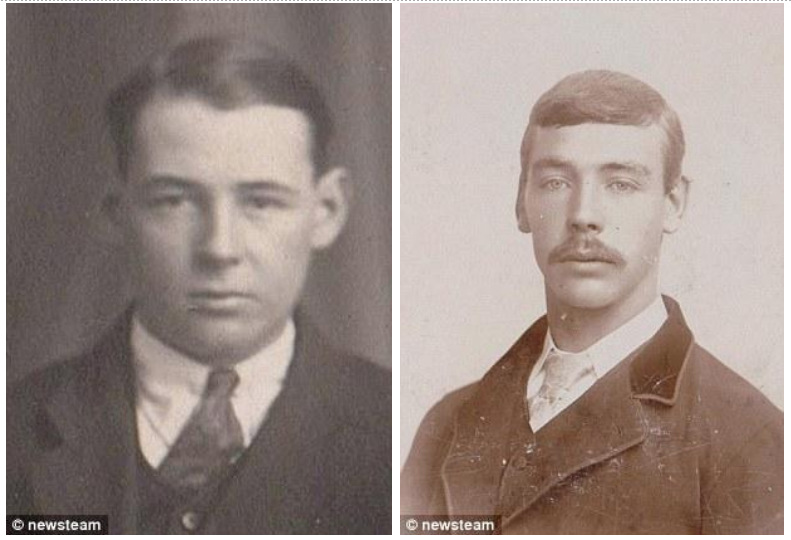 The Cawseys - Father and son - courtesy of Daily Mail on line
An Ancestry spokesperson said
"These records are a wonderful resource and a great way to start uncovering your own WW1 story. We're happy to be working with The Western Front Association to make these records available and look forward to future additions to the collection."
David Tattersfield
Vice-Chairman
The Western Front Association 
FAQs
Q: When will the rest of The Western Front Association's 'Pension Record' archive be published?
A: Ancestry are working hard to make these available. They will be published in stages over coming months as each 'set' is digitised and tagged. The next set of records is due to be made available in November 2018. This will be a much larger release than the Naval and Mercantile records referred to above.
Q: Will members of The Western Front Association be able to access the records the association has saved for free?
A: That is absolutely the intention. Work is on-going in this respect.
Q: Is The Western Front Associations's 'manual look up service' still available?
A: Unfortunately this had to be suspended some months ago when the major task of digitising these records commenced. It is unlikely that manual look ups will be available in the future, but it is hoped that this won't be necessary once the records are digitised and made available on-line.
Q: Are the records clear and legible?
A: Yes, the reproduction on this page does not do justice to the clarity of the images. If original images are difficult to read in their original form, digital copies of these can't improve the original - however all digital images are clear especially if using the magnifying tool on the Ancestry web site. Unlike the 'burnt series' of records these are undamaged apart from the natural fading that is to be expected for records that are 100 years old.

Read more
Pension Record Cards and Ledgers: some examples of dependents' cards and 
Great War Pension Records : Deeper Understanding and
Pension Record Cards - claims for soldiers who were killed
In addition the following articles give further background: 
A Further Release of First World War Pension Records by Ancestry
Famous, Infamous, Extraordinary and Ordinary
Understanding the Ledger Indexing