We are delighted to announce that another set of Pension Records have been published by our partners Ancestry on their Fold3 site. This release amounts to nearly one million records of pension claims made by next of kin of soldiers (not officers) who were killed during the First World War. 
WFA members can access these via the 'members sign on' function on this web site. 
Full details of this new set of records can be seen on the article entitled Pension Record Cards - claims for soldiers who were killed
Below can be seen one of the cards that have been published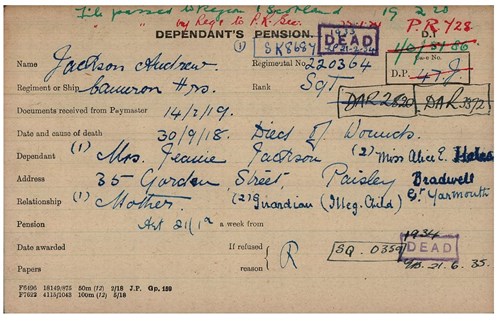 In addition, the 'browse' function on the WFA's edition of Fold3 has been enhanced, improving the ability of WFA members to locate records. 
Details of the 'browse' function can be found here >>> How to use the 'Browse' function on WFA's Fold 3
A large number of articles and guides about these records are available on the WFA web site here >>> Pension Records