Do you know anyone who worked for the Ministry of Pensions, the Ministry of Pensions and National Insurance or the DHSS?
We are looking for anyone who worked possibly in the 'awards' or 'pension payments/issue office' who remembers using the Great War Pension cards and ledgers.
As recently as 15-20 years ago there were still staff working who had been trained by First World War veterans (one former employee recalls a colleague who had been trained by a Great War RFC pilot).
The 'Holy Grail' we are seeking is a complete run of the day to day instructions for running the Ministry of Pensions Great War Pension scheme(s). However any contact from anyone who administered Great War Pensions would be fantastic.
Evidence within the cards that the WFA has saved suggests that these were still in operational use as recently as the late 1980s.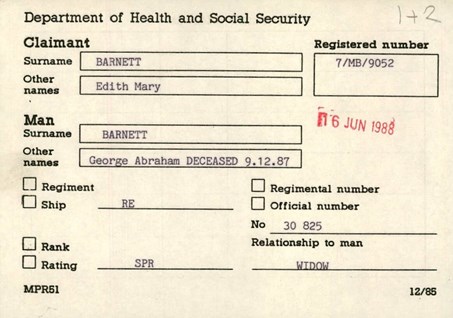 Above: A DHSS card detailing the pension awarded to George Barnett, 30825 RE and below the ledger showing the wounds he incurred.
The card (above) indicates the records were still being used as late as 1988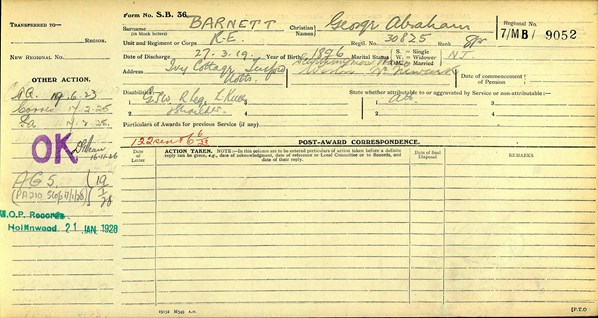 The scheme was originally regionalised, but later came together, with the work being carried out possibly at Norcross (Blackpool) and also at Acton.
As background, the Ministry of Pensions operated until 1953 when, following a merger with the Ministry of National Insurance, the Ministry of Pensions and National Insurance was formed.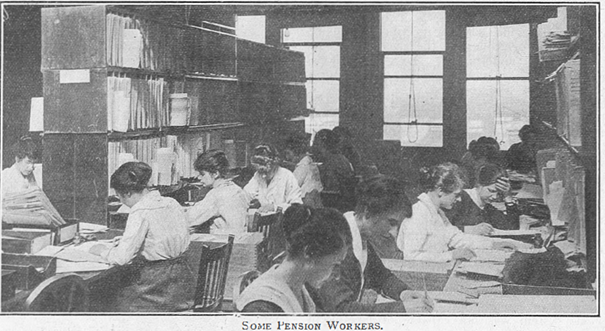 Above: MoP staff undated, but possibly just after the First World War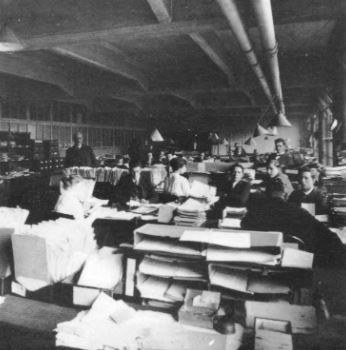 Above: Ministry of Pensions staff, at 'Cornwall House'.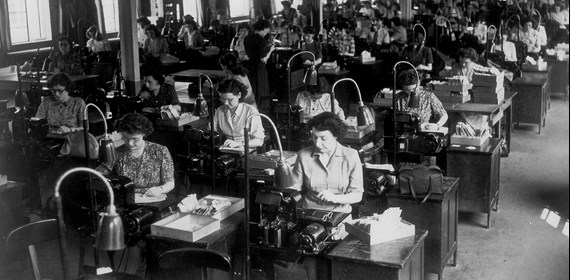 This image, again undated may show staff at the Ministry of Pensions and National Insurance
This operated until 1968 when this department merged with the Ministry of Health to form the 'DHSS'. Twenty years later, the two functions were separated, with the Department of Health and the Department of Social Security being formed. The latter becoming in 2001 the Department for Work and Pensions.
Q: How do I get in touch?
A: Please contact David Tattersfield on pensionrecords@westernfrontassociation.com