In the 37-year history of the Wolverhampton Branch of the Western Front Association, the contribution of Geoff and Carol Longmore is without parallel. Sadly, just 2 months after Geoff's final visit to the October Branch meeting, he passed away at 4.30 am on December 18th 2019 at Russells Hall Hospital, Dudley. 
In true World War 1 style, over the top just before dawn. 
Geoff was born in Stourbridge on 29th September 1942. This was an appropriate date for a Staffordshire man, being the 24th anniversary of the Storming of Riqueval Bridge by the 46th (North Midland) Division – "the day Staffordshire won the war" according to Professor John Bourne. 
Geoff attended King Edward's school in Stourbridge before starting his work career at Albright and Wilson's in Oldbury. Geoff moved to the Post Office, later British Telecom, where he spent over 30 years of his working life in a number of technical roles.
The measure of the man can be judged from the numerous voluntary organisations which Geoff not only joined, but also supported with significant amounts of his time. Besides The Western Front Association, probably the key organisation was the Severn Valley Railway.
Geoff was a member and volunteer of the Severn Valley Railway Society for over 30 years. He was a key member track-side being particularly associated with the points systems, and also the meccano-like exercise of installing the turntable at Kidderminster in the 1990s.
Geoff and Carol began attending WFA Branch meetings in 1993 when meetings were held at the Tettenhall Institute. It was Carol who first took office at the Branch, becoming Branch Librarian in 1995. 
In 1996 Geoff joined the Branch Committee as an ad-hoc member, becoming Treasurer in 1997. At the 2001 AGM, Geoff took over as Chair when Geoff Noon stepped down. Geoff was to serve as Chair for 12 years until 2013, during this time we moved to our current 'home' at St Peter's School, Compton. 
Geoff took early retirement from British Telecom. After this, he dedicated significant time to the study of history, some local history, but primarily the Great War. Geoff's deep knowledge of so many facets of World War 1 was astonishing for any historian, let alone for an amateur.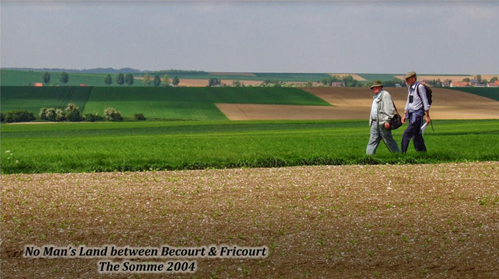 Amongst Geoff's many contributions to Wolverhampton WFA, it is possibly his organisation of the annual Battlefield Tour which stands out – certainly taking much of Geoff and Carol's time. 
Geoff organised 8 tours covering not only the Western Front, but Verdun and World War 2 tours to the D-Day beaches and to Arnhem. These were very much 'Geoff Tours', the planning, organising and presenting being almost all his own work. Many members still regard Geoff's 2004 'Walking the Somme' tour as one of the finest we have done.
Geoff's health declined in the past year and his attendance at the Branch was, inevitably, less frequent. His final attendance in October was a chance to meet old friends, without our knowing it would be the final time. 
Geoff's funeral was held as Stourbridge Crematorium on Monday 20th January 2020, with approximately 150 people in attendance. Around 30 members of Wolverhampton Branch were present, and Mark Macartney kindly represented the WFA Executive. This was a reflection of the esteem in which Geoff was held.
The committee and members of Wolverhampton WFA gratefully acknowledge the Longmore contribution to our Branch, and we extend our deepest sympathy to Carol.