Between 1983 and 2003 a series of sixteen 'Military Factsheets' were produced by The Western Front Association. These have been long out of print and have become very difficult to obtain.
Despite the passage of time these factsheets remain extremely useful to anyone seeking a deeper understanding of aspects of the Great War. 
Using digital technology rather than the 'send a self addressed envelope' process of 30 years ago, we are delighted to be able to provide all of these factsheets once again to WFA members. We believe this adds even further value to the membership package available to members of The Western Front Association. 
To access all sixteen of these, please log into the 'members area' of the WFA web site and click on the 'Military Factsheet' button.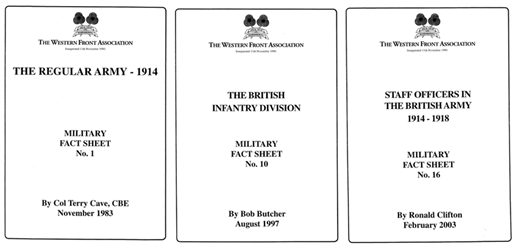 One of these has been published and made freely available without the need to log into the members' area. This is factsheet number 7 written by Ron Clifton. An index of these and a download of factsheet number 7 can be accessed here: 
Military Factsheet number 7 by Ron Clifton - 'Unit Organisation: Royal Horse Artillery, Royal Field Artillery, Royal Garrison Artillery'