I think everyone who knew of him would have been shocked by the news of Ian Passingham's death on 19 March, after a long illness, at the age of 63. Until recent years he was an avid attendee and well-known face at The Western Front Association, British Commission for Military History (BCMH) and Douglas Haig Fellowship events.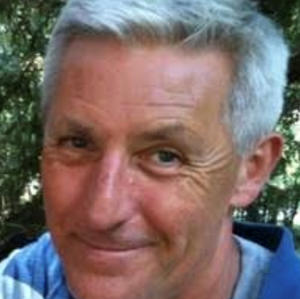 Ian burst on to the WFA scene sometime in the mid-90s when Joy Thomas brought him along to one of the Abergavenny seminars, and it wasn't long before he established his credentials at the bar until three in the morning.  
Ian had not long retired from the army, having reached the rank of major in the Royal Hampshires. Being an 'Army Brat' himself - born in Germany to a Royal Engineer father - he went to school at the Duke of York's Royal Military School, Dover and subsequently attended RMA Sandhurst, the University of Keele and passed Army Staff College.  His service took him to BAOR, Northern Ireland, Bosnia, Kenya and the Falklands. He also served with The British Commanders'-in-Chief Mission to the Soviet Forces in Germany (BRIXMIS), which is where he was when the Berlin Wall came down.
Having left the army, Ian spent some years working for Holts Tours (see Peter Simkins' recollections below) whilst establishing a career as a military historian. He was very much a 'people person' and this shone through on the tours he conducted. He was a great disseminator of information, whether it was through his many lectures or over a drink and a chat. His most recognised book, Pillars of Fire, is still cited by many as the best book on Messines.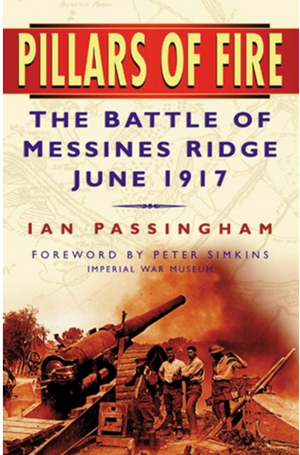 Ian was a man of contradictions. He had an almost childlike exuberance when in company. Sitting next to him at lectures could be quite painful as he fidgeted and muttered and doodled, but this should never be interpreted as him not paying attention; he could relay the talk almost verbatim afterwards.
It would not be an exaggeration to say that Ian could talk the proverbial hind leg off a donkey; few who attended a BCMH lecture where he chaired a session will forget when 'Chairman's prerogative' lasted almost as long as the talk itself. Yet he was also a good listener and confidante. 
But, for all his ability to have fun, Ian could switch and take control of a situation immediately if needed. He was a man you would follow into battle.
The last time I saw Ian was, ironically, 4 August 2014, when he, Barbara Taylor, John Peaty and myself met for what had become an annual lunch. It was clear then that all was not well, but none of us had any inkling that this would be our final get together.
Ian will be greatly missed by the many friends he made over the years, and our condolences go out to his wife, Sally, and son and daughter, Joseph and Eleanor.
Kathy Stevenson
From Peter Simkins:
I got to know Ian Passingham fairly well in the 1990s.  I was then still working at the Imperial War Museum but was also regularly and increasingly invited to act as a guest speaker on trips to the Western Front organised by Holt's Battlefield Tours. Quite a few of these trips were led by Lieutenant-Colonel  Mike Martin, a senior figure in the company. During this period, Ian also joined Holt's and began to appear on tours as Mike's No.2.  I quickly discovered that, before they had both left the army, Mike had been Ian's commanding officer in the Royal Hampshire Regiment - a fact which appeared to explain Ian's attachment to the firm.
Mike Martin, always a jovial figure, nevertheless lost no time in reminding Ian of their former relative status.  Ian was frequently 'ordered ' to open gates for the coach, move traffic cones, obtain hotel keys for our travellers or personally test whether or not fields were too muddy.  It says much for Ian that he took all this in good part and greeted Mike's instructions with an air of resigned humour.  Moreover, he rapidly became an efficient tour leader, more than capable of taking groups to the battlefields without Mike's benevolent supervision.
I particularly recall a tour with the title 'Australians on the Western Front', which attracted a fair number of visitors from 'Down Under'. Ian dealt beautifully with all the banter that inevitably accompanies meetings between 'Poms' and 'Aussies' and became firm friends with several of our travellers.
When we toured together, Ian always put me to shame by going out for a run before breakfast and would bounce into the hotel dining room, glowing with fitness, while the rest of us were barely awake or nursing hangovers.  
In 1998 I was pleased and privileged to be invited to contribute a Foreword to Ian's first book Pillars of Fire, a study of the Battle of Messines Ridge in June 1917. From that point on, however - once I had retired from the IWM - I saw Ian much less frequently and, apart from the occasional warm encounter at a conference, seminar or WFA branch, I largely lost regular touch with him, to my shame.  But I shall long remember, and miss,  his brisk and confident manner and his personal kindness towards me.  RIP my old friend and travelling companion.