As members will be aware, a project to enhance the WFA's Pension Cards is currently underway - this is called 'Project Hometown'. The aim of this is to ensure home addresses are 'tagged' as accurately as possible on the WFA's Pension Records - this to enable soldiers to be more certain of being 'found' using the Fold3 search engine.
The following account, by one of our volunteers, Tony Pringle, provides evidence of why this is such an important piece of work.
I (writes Tony) have recorded on a web site the men from Elveden (a village in west Suffolk) who lost their lives in the Great War. The web site records 29 men from the village who fell in the Great War, with their names listed in alphabetical order, but with no christian names or regiments detailed on the church memorial.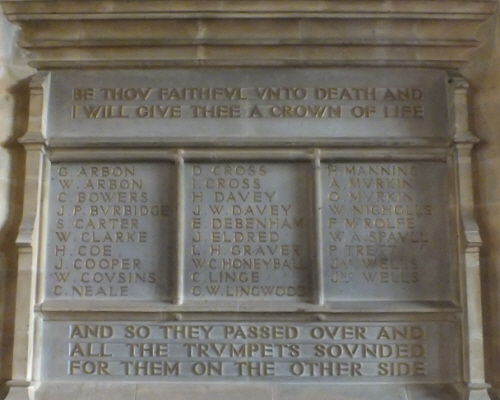 I had not a clue about H Coe - he was a complete mystery. There was simply insufficient information to positively identify which soldier this could be. There are nineteen men of this surname and initial recorded by the Commonwealth War Graves Commission. 
Theoretically, using the Pension Records saved by The Western Front Association, searching for 'Coe' and the village of Elveden would bring up his Pension Record Card (PRC) - but nothing appears using this search criteria - until we resolve the problem using 'Project Hometown'.
The handwriting on these cards is sometimes easy to read and sometimes very difficult.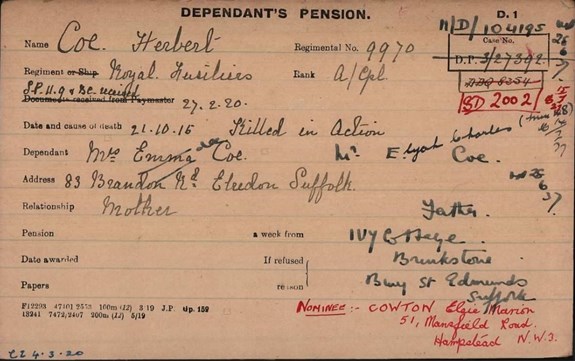 Above: The place name on the card is really not clear at all. Is it Elredon? That is how this has been tagged.

Above is a close up of the address. Elredon is a perfectly reasonable interpretation of the address. But it's not correct ! There are clearly two issues here, firstly the v looks like an r and has been tagged as such, but also the clerk at the Ministry of Pensions has mis-spelled the correct '-den' ending and incorrectly written a '-don' ending. 
I know this is in fact Elveden. His card has now been correctly 'tagged' using the Hometown process and because I've found the card that links him to the village, I now know which of the nineteen soldiers 'H Coe' is on the memorial: I know his mother's name, father's name which is a real bonus. Then things got even better, his Army records were in the burnt docs. He had an interesting Army life, getting the Durbar medal even
Of course with all this it was easy to get his family life together via the census Now it is all on www.undyingmemory.net and the local vicar is pleased to have a bit more history recorded.
Herbert, I have found out, was a pre-war regular. He applied for a discharge at Hounslow in order to return and look after his parents, his father (of 83 Brandon Road, Elveden) paid the £18 discharge fee. His discharge was effective 6th July 1914. At that time he was 23 years 6 months old, and 6ft 5 inches (195 cm)tall. His civilian occupation was footman.
In August 1914 he wrote to the Army asking for his discharge to be cancelled and he wished to serve with the colours for the duration of the war. Herbert re-enlisted in Thetford on November 1914 as No 9970 in Royal Fusiliers and his father received a refund of £9

He died in action at St.Eloi, Belgum, with the 1st Battalion, Royal Fusiliers, on 21 October 1915, one of just two of the battalion to die that day. He is buried at Spoilbank Cemetery, just south of Ypres.
Thanks to 'Project Hometown' he has now been identified from the memorial. I believe this is just the first of thousands of men who will now be able to be found using the brilliant work being done by 'Hometown' volunteers.
Do you want to be part of the team working through these improvements to the Pension Records? If so, please email
pensionrecords@westernfrontassociation.com