The remains of 14 soldiers from the First World War were unearthed last summer at Châtelet-sur-Retourne (north east of Reims). Five of them could be identified, including one officer, Captain Etienne d'Hotelans. 
The bodies were found in September and seemingly belonged to the Colonial Infantry Battalions of Morocco. Buried by the Germans – probably on 1 September 1914 – the five were able to be identified from their 'dog tags'.
The land owner in recent months wanted to extend some agricultural silos, and an archaeological diagnosis is required prior to construction sites of this type.
The Ardennes Departmental Council commenced an investigation and discovered traces of Gallic settlement, but also the remains dating from the First World War. The men had been buried in their uniforms and were identifiable from the buttons, which had the design of a naval anchor. From this it was deduced that the soldiers belonged to the colonial infantry of Morocco.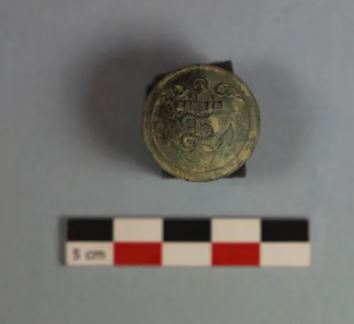 The 6th, 7th and 9th battalions were made up of metropolitan soldiers responsible for maintaining order within the French protectorate of Morocco. Urgently recalled to try to stop the German offensive, their men landed in Sète on August 17, 1914 and took part in the fighting at Châtelet-sur-Retourne on September 1, 1914. In this action a large number of shells fell on the French troops resulting in 18 men being killed, with a further 160 missing.
A Captain's stripes also found which make it possible to put a name very quickly on one of these bodies. 
"There was only one captain engaged that day, in these fights, " notes Stéphane Jocquel, head of the sector in charge of war graves at the National Office for Veterans. This was Captain Etienne d'Hotelans.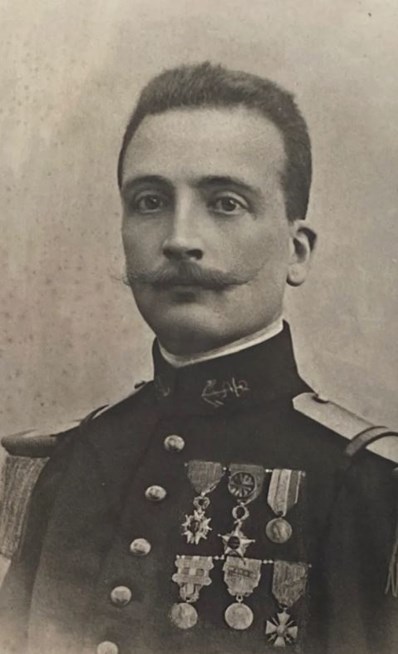 Etienne d'Hotelans died childless, but grandchildren and great-grandchildren of his brother Henri were found. 
"A few months ago, we received a phone call from the deacon of the parish of Meknes, Morocco, who informed me of the discovery of a marble plaque honoring the bravery of Captain Etienne d'Hotelans injured during the battle of Zrarka in March 1914. We did not even know the existence of this plaque! ", says Eric d'Hotelans, grand-nephew of Captain Etienne d'Hotelans.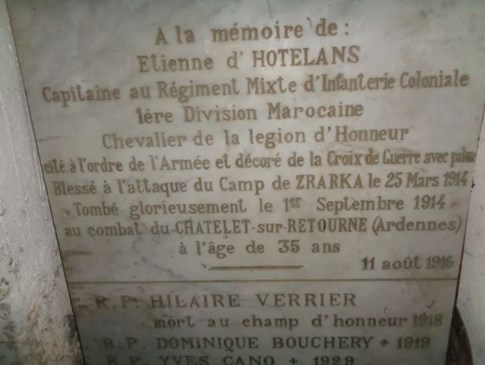 To perpetuate his memory, a new family record book will be dedicated to him. The descendants will also receive personal items that archaeologists also found during the excavations, these include a baptismal medal and a crucifix he had in his pocket plus a signet ring that bears the family coat of arms.
Finally, the descendants of Captain d'Hotelans will have a place to remember him as  his body will be buried in the family vault of Chénas, his baptismal parish. 
The 13 other soldiers found at Châtelet-sur-Retourne, whose identity has not been established or whose descendants have not been found, will be buried in the national necropolis of Rethel.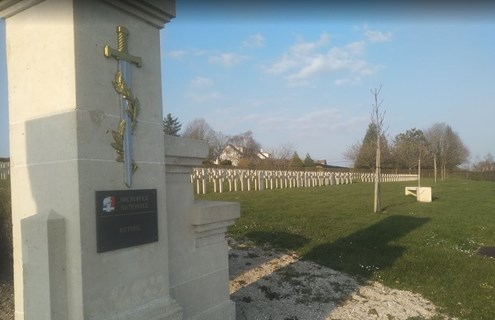 Above: national necropolis of Rethel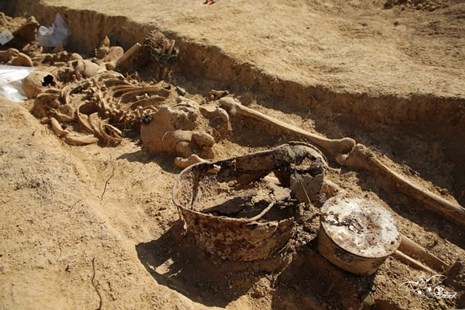 Above and below: The excavation of the remains.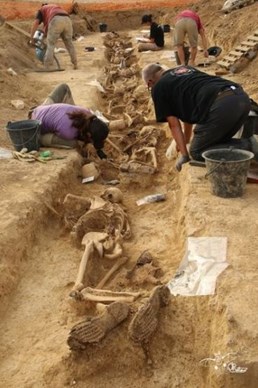 Source: https://www.francebleu.fr/infos/insolite/106-ans-apres-la-grande-guerre-les-corps-de-5-poilus-identifies-dans-les-ardennes-des-descendants-1608974760 (English translation here mainly by Google)
Images courtesy of 'souterrains de la marne' on facebook: https://www.facebook.com/souterrainsdelamarne/