I have had a number of different new experiences since taking the Chair of The Western Front Association during the summer but Wednesday's will take some beating. In bright sunshine the ten members of The Western Front Association Cenotaph party were very politely drilled by Garrison Sergeant Major 'Vern' Stokes in the yard of Horse Guards. The Major General's party arrived to be put through their paces.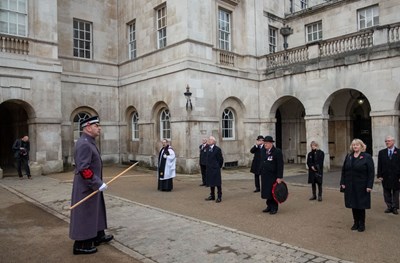 Practice was briefly disrupted by the entrance of the mounted guard, before we were back on our chalk marks.
At precisely 10.53 we were marched out, led by Sgt Laing and GSM Stokes into an eerily quiet Whitehall. Four minutes later, on our chalk marks once more but this time facing the Cenotaph the Reverend David Parrott led a short prayer before Big Ben announced the National Two Minutes Silence. No one could have been unmoved by the silence broken only by the crisp fall of leaves. Standing at the Cenotaph exactly one hundred years on from its unveiling, in the footsteps of the great and the good of the War and where the gun carriage bearing the body of the Unknown Warrior had paused, I for one reflected on my grandfathers, both of whom returned unlike by wife's family, who lost both sons neither of whom have a grave and are known only unto God.
The silence was broken by Sgt Laing and the bugle recovered from The Somme as the Last Post rang out. As Sgt Laing turned about John Chester, The Western Front Association Parade Marshall laid the wreath for The Western Front Association, bowler doffed in salute.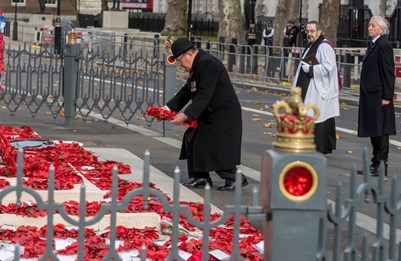 As the military party marched off John gave the Exhortation and as the Cenotaph party responded with our "we will remember them" the Padre concluded our brief ceremony with a prayer. John marched us off back to Horse Guards yard, security gates were opened and traffic and bustle returned to Whitehall.
I don't think anyone in our party was aware of the much talked about protest, certainly it did nothing to detract from a socially distanced though appropriate commemoration of this important final centenary of the Great War. Given that it was less than 48 hours after Rich Hughes had managed to negotiate our participation in the event at all, it all went off remarkably smoothly which is a testament to behind the scenes work of Rich and the organisation skill of John Chester and of course GSM Stokes and our thanks go to them.
The Western Front Association Cenotaph Party comprised WFA President Gary Sheffield, Parade Marshall John Chester, London Branch Chair Kathy Stevenson, Thames Valley Chair Barbara Taylor, Nick Lucas, Jules Lyne and Neil Pearce from the London Branch and guests the Reverend David Parrott and Justin Maciejewski from the National Army Museum.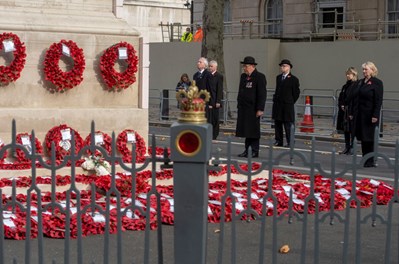 Tony Bolton
Chair, The Western Front Association