For many battlefield tourists over the years, one of the 'must visit' places on the Somme is the Lochnagar Crater at La Boisselle. For generations of visitors this has been a site of historical importance, reflection and also an excellent place to view the 1 July battlefield from the German perspective. 
But it could have been different had the site been filled in, similar to what happened to the corresponding Y-sap crater on the other side of the main road. Thankfully, Richard Dunning, realising the site was at risk, purchased the crater in the 1970s thus ensuring its survival.
The site attracts more than 200,000 visitors a year (excluding the recent aberration caused by Covid-19).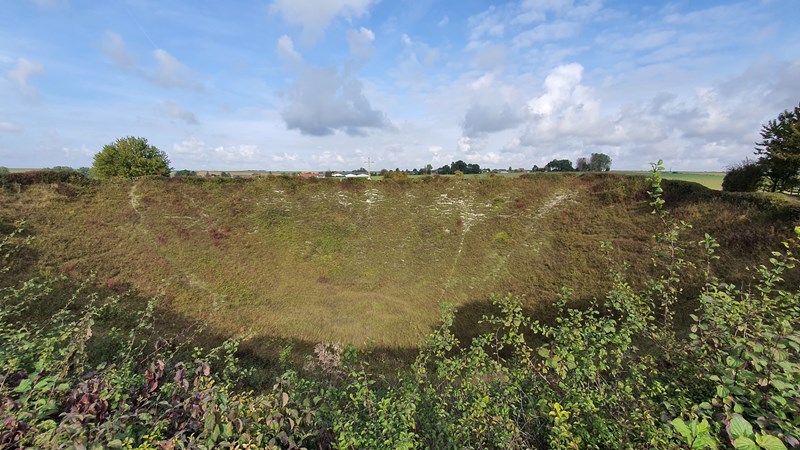 Of course, this level of visitor numbers created its own problems with erosion and site-safety on the uneven surface. As a result, the 'Lochnagar Crater Foundation' who run the site, created a wooden walkway some years ago which made the site safer and more accessible even in rain.
Unfortunately, the walkway, being wooden, has suffered with constant exposure to the elements - a recent inspection has revealed a large amount of work is needed to keep it viable. The Foundation therefore raised an appeal for funds to enable the walkway to be repaired and in some places rebuilt.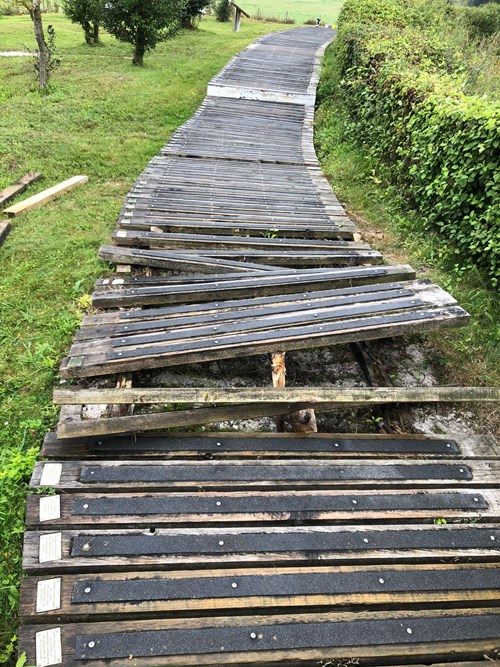 Recognising the importance of the site and Richard's links with The Western Front Association (he was a founding member at the invitation of John Giles), the trustees of The Western Front Association have decided to make a significant donation to the Foundation to ensure the appeal is successful and to enable work on the repairs to commence without delay. 
A one-off donation of £15,000 has therefore been made to the Lochnagar Crater Foundation's Appeal, specifically for repair of the walkway. 
Richard Dunning has passed the following message:
'On behalf of myself and all our Trustees, I would like to express my gratitude to all at The Western Front Association for their extremely generous contribution towards the cost of refurbishing the Lochnagar Walkway.
As some of you may know, my connection to The WFA goes right back to the beginning (my number is 0002) and it was John Giles who accompanied me to Lochnagar when I was proudly presented with 'the deeds' on July 1st 1978. Since then, I would like to think that we all share the same goal: to bring people together to understand more fully, not only the events of 1914-18 but its ongoing impact on those of all nations who fought and suffered.
Your donation will help ensure that future visitors to Lochnagar can find their experience rewarding and can do so in safety.
Thank you.'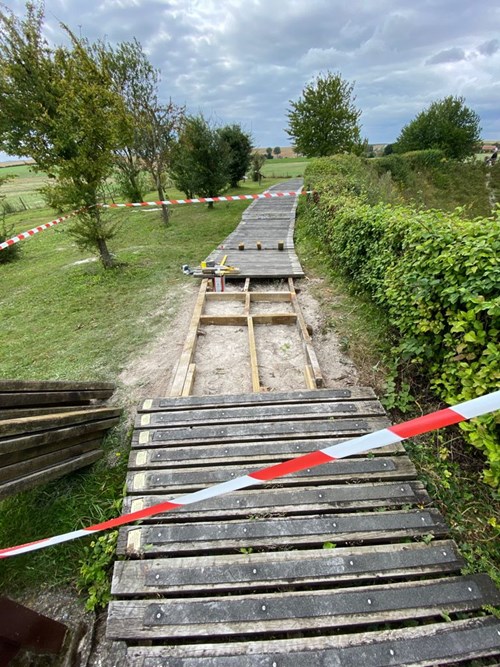 It should reassure our members that the income generated from our collaboration with Ancestry over the past 18 months and a number of recent, generous legacy gifts from wills to our charity underlines that this is a reasonable and tenable action given our current financial position.
If members wish to make a personal donation to help with the appeal this can be done via this link: Donate to the Walkway appeal