In 2014, Attila Szalay-Berzeviczy started a project to follow and photograph the events of the Centennial of the Great War across the world. Eight years later, the results of his work have now been captured in his two-volume book. 'In the Centennial Footsteps of the Great War - From Sarajevo to Versailles', which captures his perspective of the conflict and its commemoration in every geographical area that it touched. 
Above: Attila with Camera
The Western Front Association is pleased to be supporting the UK release of the first volume of this book, which covers 1914 and 1915, at the Hungarian Embassy in London on 30 June July 2022. This is of course the 106th anniversary of the Battle of the Somme.
For every copy of the book sold in the UK, Ireland, Canada, Australia and New Zealand, Attila has generously proposed that two pounds will be donated to The Western Front Association to be used in ongoing educational work to perpetuate the memory, courage and comradeship of all those who served, on all sides during the Great War.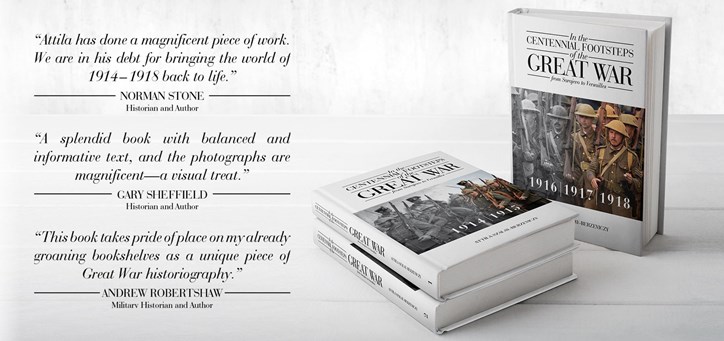 Above: Attila's Book and Testimonies
Attila reflects that, 'After concluding my centennial project, I am delighted to present to you the story of the Great War in full-colour photographs. I very much hope that the images in this volume and the next will inspire you to visit these historic places with your children in order to discover the peace and beauty I found there, and to reflect at the exact location on the tragic events that took place there over one hundred years ago. I also hope that this two-volume book will in some small way contribute and support future commemorations beyond the centenary, and will remind everyone that peace can never be taken for granted. It is my wish that our great-great-grandchildren will be able to commemorate the bicentenary of the outbreak of the Great War on 28 June 2114…'
Dr Spencer Jones, one of our honorary Vice-Presidents, will be attending on behalf of The WFA, but members will be notified of further details of how they can attend this event in London in due course. The second volume of his book is due to be released in December this year and more information on Attila and his book can be found at https://www.greatwarbook.com/en/
Members who are interested in attending this event should email european@westernfrontassociation.com in order to be notified of the date of the event and to ensure the numbers wishing to attend are in line with the capacity of the venue.