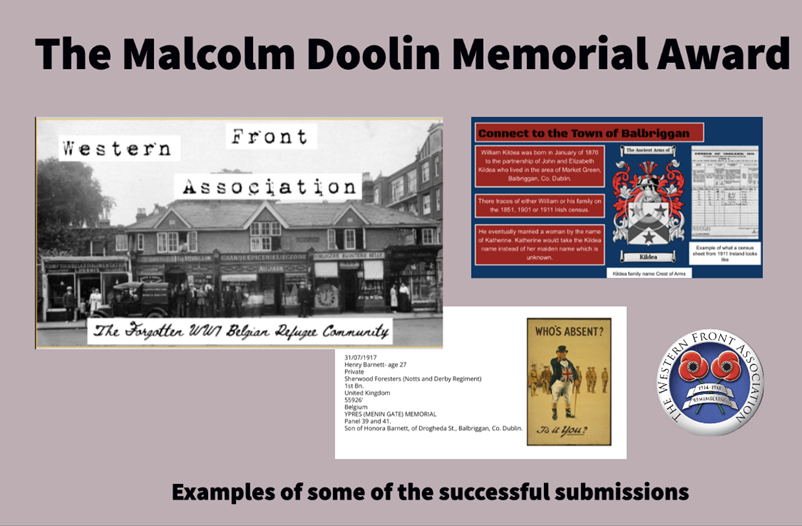 The Western Front Association (WFA) today has formally announced the schools that were awarded prizes for their pupils' submissions to the 2022-2023 Malcolm Doolin Memorial Award for local research into the Great War.Malcolm Doolin was a WFA member and educational consultant who had a passionate interest in the Great War; the Award in his name aims to encourage research by school children into the First World War in their local area.
The judging panel for the competition were looking for entries that were original, communicated their research through a publication, display or performance and showed partnership working, either with local schools, museums, churches or the Western Front Association branch in their area. The competition aimed to award two prizes of £500 each and with the option of offering runner up prizes of £50.
Eve Wilson, WFA Education Trustee, said:
"The judges were delighted to see the entries from schools this year. There was a range of projects exploring different aspects of how the Great War affected local people from different parts of the UK. Entries included videos, a podcast, brochures, art work and models, and PowerPoint presentations. Topics included life on the home front; Belgian refugees; biographies before and after the war of those who served; the service records of casualties from individual schools and from towns; personnel involved in the war and in Irish nationalism. The quality of entries this year was so good that judges proposed we award two second prizes of £250 in addition to the two first prizes of £500 and three runner up prizes of £100. We were pleased to see a strong cohort of entries from schools in the Republic of Ireland, participating in the competition for the first time. Our thanks go to the WFA members who have supported schools this year. It was clear that the schools valued their input."
The schools that were awarded £500 for their work were: 
Loreto Secondary School, Balbriggan, Co. Dublin and the Ursuline Convent Secondary School, Thurles, Co Tipperary.
Second prize winners receiving £250 were:
Orleans Park School, Twickenham and Terence MacSwiney Community College, Knocknaheeney, Cork.
The runners up awarded £100 were:
Glasgow High School, Worthing High School, and North Monastery Coeducational Secondary School, Cork.
The Western Front Association is currently holding two other competitions for school students: 
The 2023 Autumn Competition for 12 to 14 year old students in the UK and Ireland exploring " Sell, Sell, Sell. Advertising in  the First World War". This closes on 3 November 2023 and information is at:

https://bit.ly/3MC88Ee

The 2023-2024 Malcolm Doolin Memorial Award for Local History Research. Details are at:

https://bit.ly/3oGOuyU

 

 
For further information contact