Wilfred Ewart was born 19 May 1892 in Hanover Square, London
His father was Herbert Brisbane Ewart, his mother Lady Mary Napier Gore. 
Age eight at the 1901 England Census, Ewart was with his father and six year old sister Betty (or rather the family nanny) and their other five  domestic servants (a cook, two house maids, kitchen maid and footman).
Wilfred was the only, adored son, of Herbert Ewart and Lady Gore, who had just two children at a time when families tended to be large. Wilfred, was a precocious child considered by his parents too wayward for a university education and was sent instead age 17 to a farm in Cambridgeshire 'to learn about farming'. It is here that his observational tallents quickly established him as a writer. Books on the countryside and hit book on the raising chickens followed. He was soon earning over £100 a year in commissions for newspapers and journals. (This equates to some £12,000 a year in 2021). It was just as well that Wilfred had his own money as his father was not the type to indulge at a time when indulgence of the young in the upper class saw them attending parties (though usually chaperoned), at multiple balls in town, week-end parties and sporting events throughout the 'season'. It is this backdrop that Ewart uses to establish his moneyed protagonists upper class Adrian and Eric in 'Way of Revelation'. 
A writer of considerable skill Ewart's fictionalised experience of the First World War 'Way of Revelation: A Novel of Five Years ' (1921) went into multiple reprints in 1921 and later editions after his death.
After the trials and tribulations of five years surviving the 'European War' as a junior officer in the Scots Guards Ewart had a nervous breakdown in the early summer of 1922 and could not write at all. Recuperative travels followed with his close friends  the  Grahams in late 1922 which took him first to the US and then to Mexico. He was in Mexico City for New Year's Eve celebrations at the end of 1922 where, in a freak accident, he was shot through the eye. His body was found the following day and his date of death given as 31 December 1922 though logic surely would say he died shortly after midnight, not before - after all, the frenzied release of weapons into the night sky was something that marked the New Year after the bells had chimed rather than beforehand?
Wilfred Ewart's story is skilfully told by Hugh Cecil by way of an introduction and explanation of a thorough review of 'Way of Revelation' in Ceci's magnus opus 'The Flower of Battle: British Fiction of the First World War' (1995)
Wilfred Ewart should not have been able to enlist in the Scots Guards in 1914 as he was totally blind in one eye and was significantly short-sighted in the other. However, his first cousin, the Master of Ruthven, who commanded the First Battalion, the Scots Guards, ensured that the doctor who made the necessary examination found Wilfred 'fit for service'. Cecil (1995 p.127)
Astute, Ewart's view in 1914, according to Hugh Cecil, was that 'Sir Edward Grey, the Liberal Foreign Secretary, had been right to strengthen his country's links with France and Russia, but had been wrong not to warn Germany explicitly that Britain would back up her two friends in the crisis of July 1914'. Cecil (1995 p.127)  A view held by the German Ambassador to Britain, Prince Linknowsky, who feared that Kaiser Wilhelm II and his acolytes believed Britain's lack of clarity meant they would probably stay out of a continental war. (Linknowsky has a 'walk on role' early in 'Way of Revelation'. 
Cecil uses the War Diaries of the Scots Guards to detail how closely Ewart matched his actual war experience with the world he fictionalised: serving in France from France, first an Neuve Chapelle, then invalided out, returned to the Front and the Somme, a witness to war with an observational flare developed in Cambridgeshire in his youth before the war and in Ireland in the early 1920s. 
In April 1922 Ewart had a mental breakdown, could not write and was forever close to tears, which is how he accepted an invitation by his friends Stephen Graham to visit Sant Fe, New Mexico, from whence they travelled to Mexico City for the New Year. (3) Cecil, p.150
It is here that Wilfred Ewart met his tragic end, ironically fitting for an author whose epic, tragic story of friendship, love and loss is detailed in 'Way of Revelation'.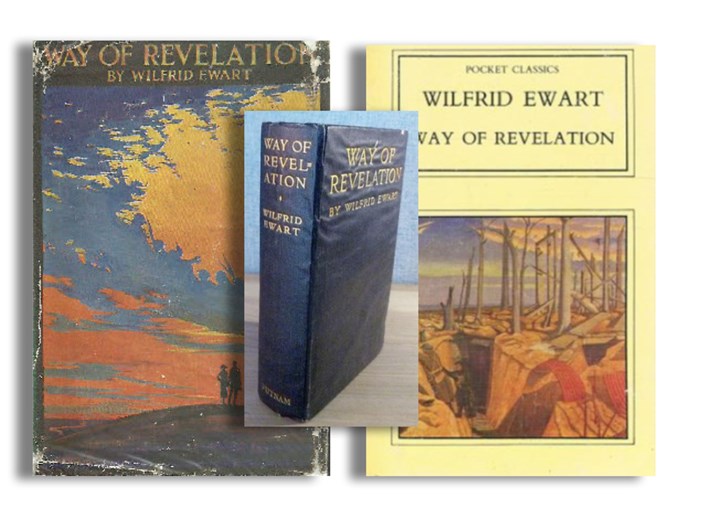 A full review of 'Way of Revelation' > http://bit.ly/EwartWW1  
Research by Jonathan Vernon 
References
Cecil, Hugh.

The Flower of Battle: British Fiction Writers of the First World War.

1997 (London. Secker & Warburg)  p.127 

Ibid. p.127 

Ibid. p.150 
Sources: 1901 England Census, UK & Ireland Outwards Passenger List,